We are passionate about providing fully functional outdoor sports shelter tents. You can customize the size, roof shape, and furniture fittings of your shelter tent to suit the size of your attendance. We provide you with large tents to suit most outdoor environments.
A memorable outdoor sheltered sports tent for a basketball game at a shopping mall event.
Liri-tents was founded in 1997 and holds several patents and R&D capabilities for fitted outdoor tents. Shelter tents have many excellent examples to choose from for outdoor environments such as car parks, shopping malls, and grass areas. We have added key functional enhancements such as size, simplicity of installation, protection, craftsmanship, functionality, and much more. A beautiful and sturdy outdoor sports tent for every outdoor event.

Shelter Tent For Outdoor Basketball Games
A large 20x35m outdoor sports shelter tent was used to host a basketball game in the atrium of the shopping center. The plain white roof is covered with PVC fabric for aesthetic and sun protection. The perimeter fabric is not completely airtight, leaving a 3m seal to prevent direct rainwater run-off. The perimeter of the tent is anchored with stone piers so as not to damage the floor tiles. 20x35m shelters are large enough to accommodate spectator seating and other items.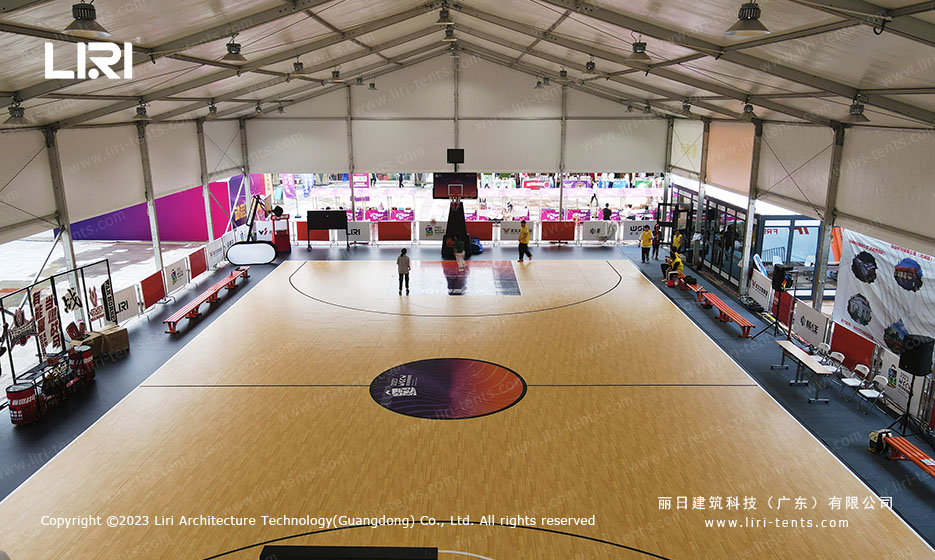 The Liri-tents outdoor shelter tent provides the necessary aluminium frame, stone pillar stabilization, PVC roofing, furniture, court construction, and much more. Our work is very fast, the 20x35m shelter tent takes only one day to install and then on the court.
The Outdoor Shelter Tent is a great-looking, quick-to-set-up, sturdy, reliable, and versatile frame tent. Whether you are looking for a stylish large sports tent or a multi-purpose promotional stand tent, Liri tents offer a choice that will delight you. They will complete your commercial exhibition and sales event, basketball tournament, and make people praise you.