With its classic high-peaked appearance and first-class materials, gazebo tents are very popular worldwide. As these high-peak tents can resist strong wind and sunlight, they are an ideal solution for weddings, festivals, catering, car parking, or other outdoor events. offers gazebos from 3×3 gazebo, to 6×6 gazebo, to 20 x 20 gazebo, and custom made gazebo.
No matter what tent size and theme party you want, you can always find superb quality, professional service, and affordable prices here.

Backyard Gazebo Tent Dimensions
Span Width

Bay Distance

Eave Height

Ridge Height

Main Profile

3m

3m

2.5m

4.3m

65x65x2.5mm(4-channel)

4m

4m

2.5m

4.8m

65x65x2.5mm(4-channel)

5m

5m

2.5m

5.43m

65x65x2.5mm(4-channel)

6m

6m

2.5m

5.92m

65x65x2.5mm(4-channel)

8m

8m

2.5m

5.36m

122x68x3mm(4-channel)

10m

10m

2.5m

6.38m

122x68x3mm(4-channel)

Gazebo Tents can be used as a single unit or combined by rain gutters to build a larger space or a special structure.
Backyard Gazebo Tents Features
Hard-pressed extruded aluminium frame and double PVC-coated fabric cover.
No pole inside making 100% available interior space.
Available sizes: 3×3m, 4×4m, 5×5m, 6×6m, 8×8m, 10×10m, and 12×12m.
Optional tent accessories: colorful covers, clear PVC windows, doors, walls, rain gutters, lighting, event furniture, air-conditioning, and carpeting.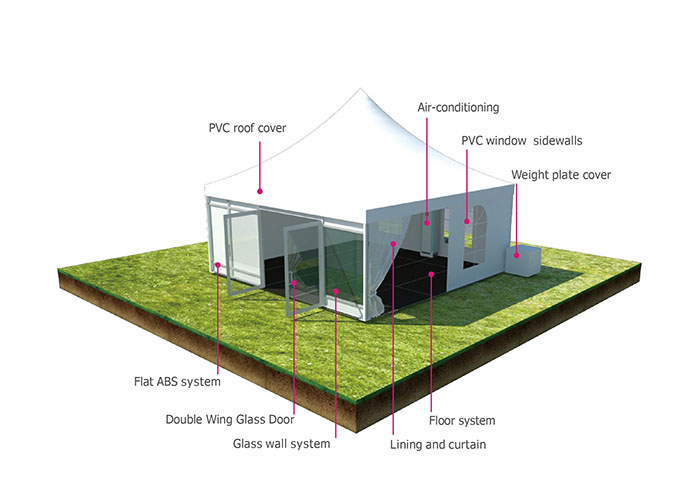 If you are interested in these gazebo canopy tents and more party tents, just SEND your detailed product inquiry below. We will get back to you as soon as possible.