Camping tents must be no stranger to outdoor enthusiasts. The tradition of camping has evolved from that of Native Americans all over the world. This is the Tipi Camping Tent. Solid wood support, khaki Oxford canvas, similar to the appearance of the pyramid. This is the familiar and favorite early tipi tent for outdoor camping.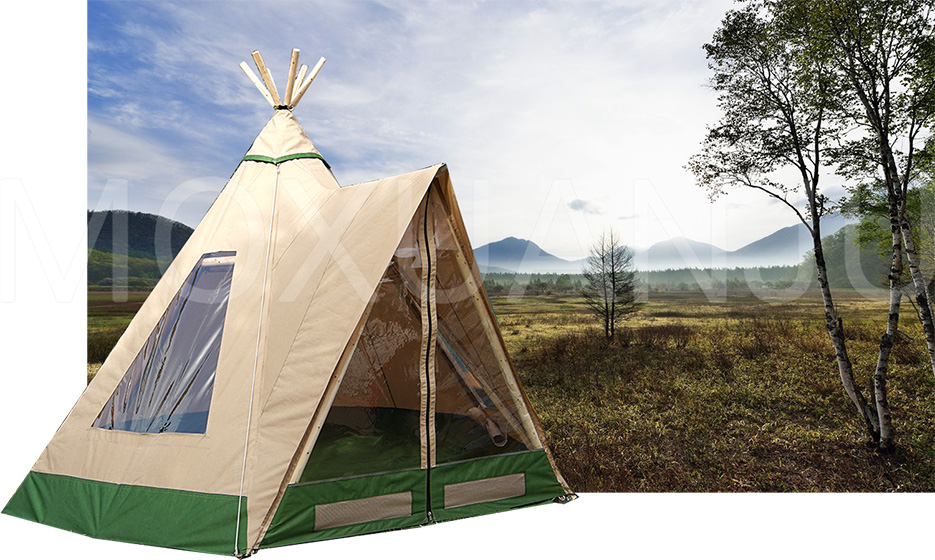 Simple structure, and fast installation, similar to a pyramid shape, are the consistent evaluation of the tipi camping tent. The early tipi tent evolved from the traditional tents of Native American Indians <Tipi – Wikipeida>. Just a few pieces of wood and a piece of canvas can support a tent, which is simple and unforgettable.
Today, with the development of industrial technology, there is an era of tall buildings everywhere. Modern urbanites once again like to fall in love with places with primitive appearances such as countryside, fields, and forests, and look for the natural atmosphere outside the iron and steel era.
As a result, camping began to set off all over the world again. From simple camping equipment to outdoor luxury camping, tents of different forms appeared one after another. Hence, camping tipi tents also quietly began to purchase.
Transformation of the "old" tent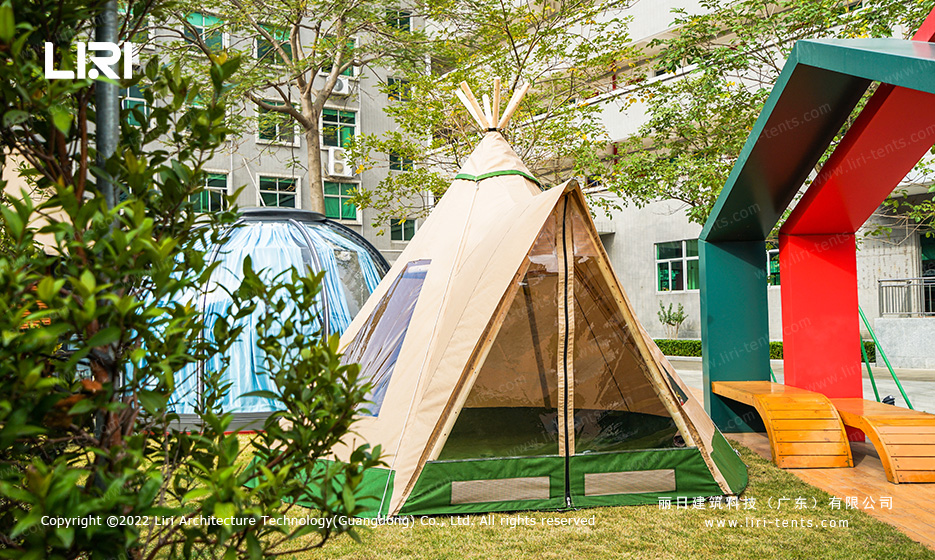 The Mini tipi camping tent (Giant tipi restaurant tent)has been improved in all aspects, such as the classic shape of the pyramid and the simple and quick construction method. The basic look of the wooden pole supports and khaki-colored tarpaulin was retained as much as possible. At the same time, we adjust the angle of the wooden pole support to make it look more three-dimensional and attractive.
This mini tipi camping tent is made of six spruce wood as the main support frame, with a width of 4m and a height of 2.65m. Both in terms of texture and appearance, it is much more advanced and taller than the average camping tent. It has trapezoidal transparent PVC windows at the entrance and on both sides, which are great for light and view. Its interior space reaches 33 square meters and can accommodate at least 4 people.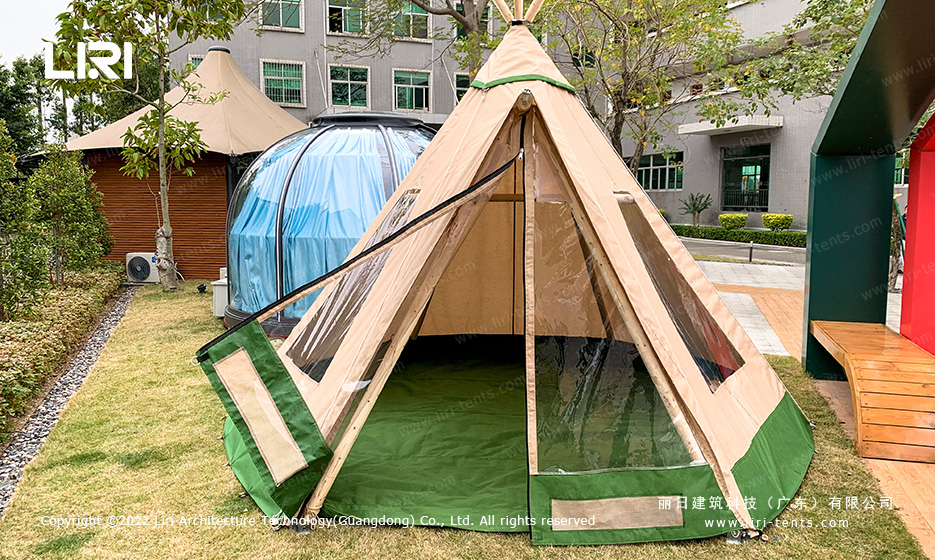 The entrance porch with zipper design plays the role of wind protection and internal air circulation. The ventilation skylight can pull up a circle of ventilation caps at the top by gently pulling the pull-down rope to expose the ventilation hole and reduce the sense of stuffy heat.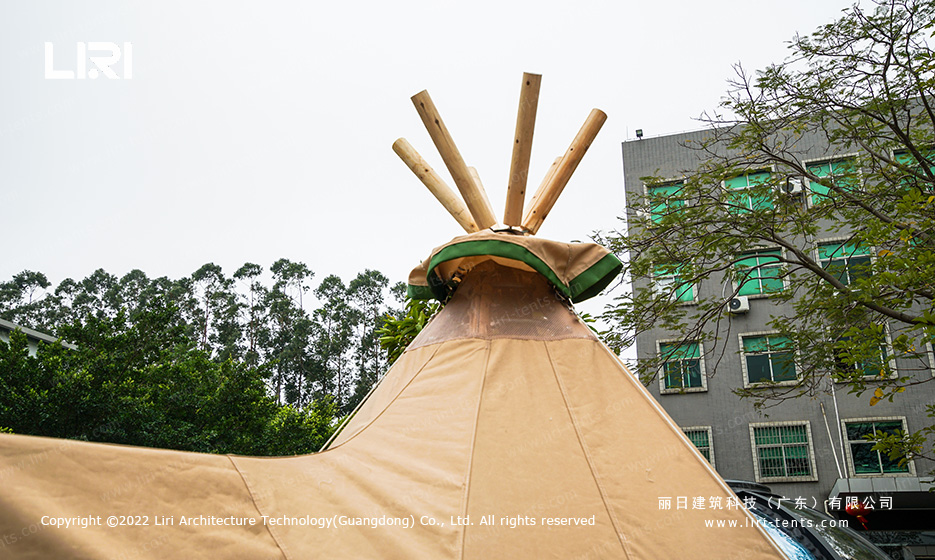 The fabric of the Mini tipi camping tent is made of canvas, which is wear-resistant and tear-resistant. It not only has excellent waterproof and breathable ability but also can effectively resist ultraviolet rays. Canvas fabric is suitable for outdoor use and ready to deal with changeable weather.
Use the combination of connecting rod / covering canvas and bandage to play a new style and shape, adapt to many different places and uses, and let you truly experience the beauty of nature.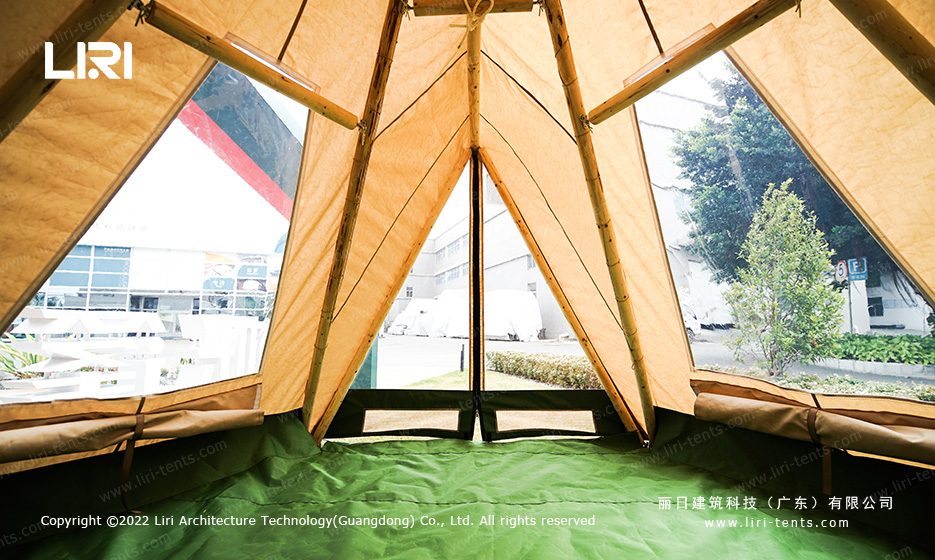 Mini Tipi Camping Tent Size
| Model | TP10/4 | TP16/6 |
| --- | --- | --- |
| Eave height | 2.1m | 1.9m |
| Ridge height | 2.7m | 3.6m |
| Top height | 3m | – |
| Diamete | 4m | 6.3m |
| Diameter when sides are raised | – | 28m² |
| Floor area | 10m² | – |
| Covered area when sides are raised | – | – |
| Capacity (standing) | 10 people | 16 people |
| Capacity (seated) | 6 people | 8 people |
| Capacity (camping) | 2 people | – |
| Main poles | Wooden pole Φ60x3100mm | Wooden pole Φ70x4600mm |
| Weight of Package | about 80kg/set | about 150kg/set |
A Few Suggestions
This luxury tipi tent is in no way inferior to more expensive camping tents in terms of detail, apart from its size and materials.
The new tipi camping tent is bigger and heavier than the average canvas tent. With a huge packing weight of 80KG, it fits into the trunk of the car. The reason is that we have strengthened the canvas and rivets and other materials to make it more sturdy and durable. In terms of the feeling of use, it will still be very solid even in strong outdoor winds of six.
You may need to buy a larger mattress because the tent can be used space is really large. There is no problem lying flat for 2 people and 4 people. Thoughtful advice is best to purchase another 10CM above-the-ground moisture-proof pad.