Clear party tents benefit from a unique look and are often used for special and extravagant party events. Now, thanks to innovations in tent technology, clear party tents are also available in a wider range of exterior shapes and decorative styles. It has become even more glamorous and cost-effective.
If you are planning a party on the beach, meadow, or wilderness, the Clear Party Tent will meet your requirements for an exceptional indoor environment. There are two types of clear material, clear PVC fiber material, and reinforced glass walls. So, there is also a clear party tent made of glass walls, called transparent party tent.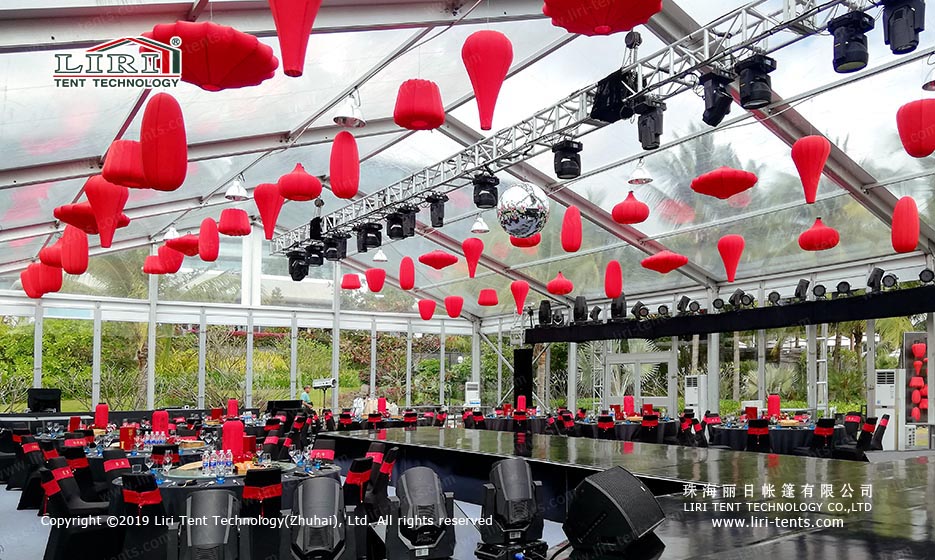 Clear party tents made of PVC fiber are cheap and easy to replace the covering material. It is the best choice to stand out from the crowd. During the day you can enjoy the outdoor scenery with the help of sunlight. At night you can see the bright stars and moon through the transparent roof. Weddings, celebrations, and dinners can therefore be an unforgettable experience when held in a clear tent.
Optional Accessories for Clear Party Tents
ground anchors
weight plate
lining and curtain
glass wall system
glass door units
ABS walling system
clear roof covers and sidewalls
flooring system
rain gutter system
hexagonal and octagonal end bays and high peak
If you want to know more about this clear party tent, just SEND your detailed product inquiry. We will get back to you as soon as possible. We are the first and largest party tents manufacturer in China.