Introduction Of Clear Big Tents
The clear span of the clear big tent is 18m, 20m, 25m, and the main profile size is 204×120×4mm. This tent is a modular structure that can be increased or decreased in the bay distance of 5m according to the clients' requirements.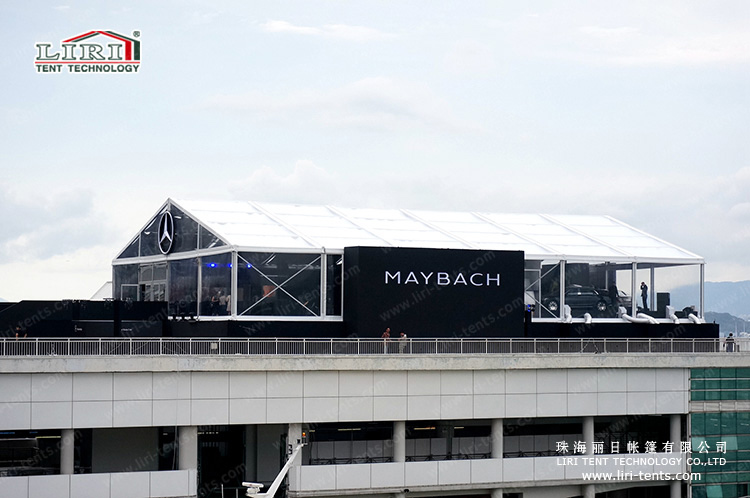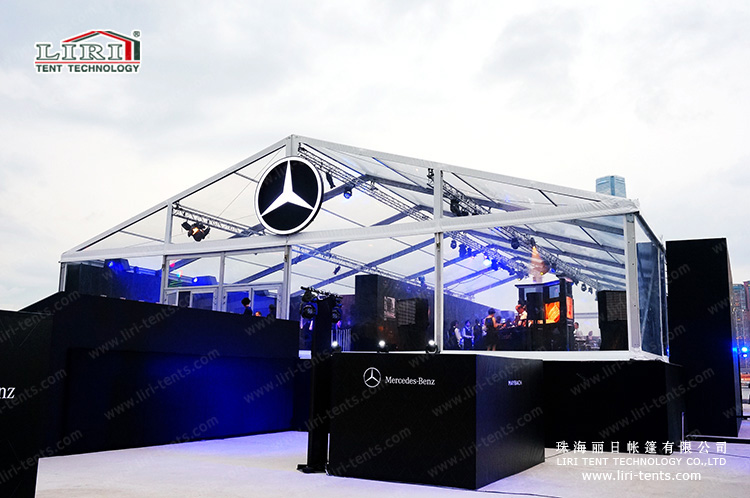 Application of Clear Big Tents
The tent attached is our 20×30m tent for the car exhibition in Hongkong. The tent series are widely used as the party tent, wedding tent, exhibition tent, conference tent, festivals celebration tent, corporate events tent or other events, etc.
Specification of Tent Frame (BT series)
Main frame profile size for BT series: 204×120×4mm
Wind load: 100km/h
Minimum tent length: In order to reach the designed wind load and make sure the tent is safe, please set up the tent with the required minimum tent length.
Optional Accessories of Big Clear Tents
-Ground anchors
-Weight plate
-Lining and curtain
-Glass wall system
-Glassdoor units
-ABS walling system
-Clear roof covers and sidewalls
-Flooring system
-Rain gutter system
-Hexagonal and octagonal end bays and high peak
Materials of Big Clear Tents
Fabric: Double PVC coated polyester fabric, 750-900g/sq. M, waterproof, UV resistance, fire retardant according to standard NFPA701, CFM & DIN4102 B1/M2
Frame: Hard pressed extruded aluminum 6061/T6, anodized surface finishing.
Connections: Hot-DIP galvanized
Colors available:
White, red, yellow, blue, green, black, grey, transparent, etc.
Printing of slogans and theme patterns.
Add hanging brackets and hang plaques.
Product certificates:
Fabric: Test reports for the fire retardant, standards: NFPA701, CFM & DIN4102 B1/M2
Structure safety: Certificates by the registered engineers in the U. S. A & Australia.
EU tent standard: the frame and PVC cloth meet the relevant EU transport and environmental protection specifications.
Why Choose Us
The first tent manufacturer in China— Focus on the tent industry for 17 years.
The largest tent manufacturer in China covers 30, 000sqm and includes 20, 000sqm building area.
The most reliable tent supplier and the biggest tent exporter in China.
Engineer's company, we concern more about the quality and service.