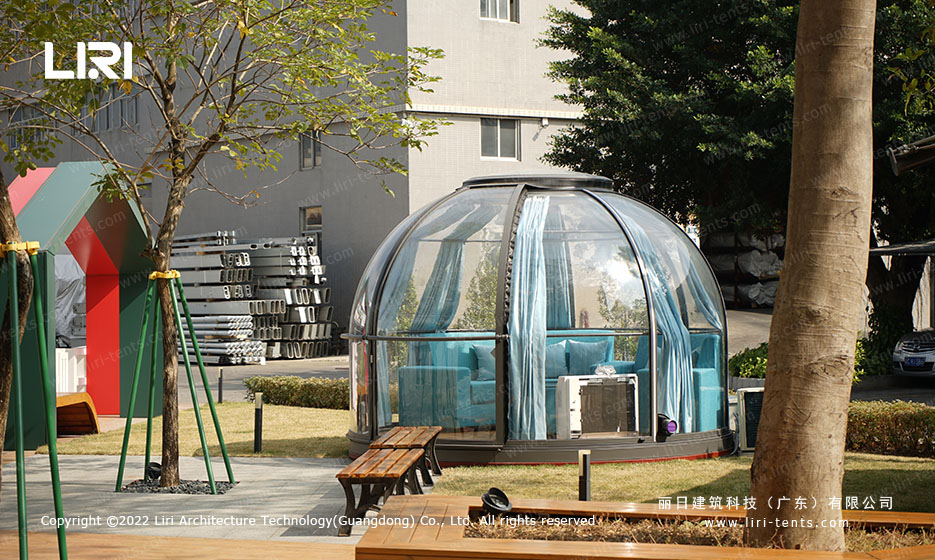 Suddenly this year, the Crystal Star House became a trendy tent that people love. It can be seen in various large shopping malls, specialty restaurants, specialty hotels, and high-end clubs. So why is the transparent crystal House so popular with merchants?

Crystal Dome Star House Features
First of all, there are many sizes of transparent crystal Houses, ranging from 3 meters to 8 meters. Special themed crystal House shapes can also be customized. Especially eye-catching at popular supermarkets and restaurants, you can't help but stop and watch.
Second, is the stunning fully transparent design. The crystal room is made of high-density PC material. It is not only clear and transparent but also has a certain level of protection.
Third, temporarily block outdoor sunlight wind, and rain. One of the most important things a superstore does: provides a sheltered and comfortable space for customers to move around and stay.
Due to the structural characteristics of the transparent crystal house, small and medium-sized crystal houses can be easily and quickly built without the assistance of large equipment and without destroying the ground. The super mall only needs to build the dome tent during the closing time at night, which will not affect the normal operation of the mall!

Customized Crystal Star House Size
The crystal house has two shapes, a round shape, and a waist shape, and the two shapes are suitable for different scenes. For example, the round crystal house is suitable for the VIP reception house, and the waist circle is suitable for the VIP dining house. For customers with high privacy requirements, it can be covered with a black film, so that the inside cannot be seen from the outside.
As you can see, the crystal ball has a unique sliding door design, which slides along the arc track when opening the door. You can also choose a fresh air ventilation system and a cooling and heating air conditioning system. In fact, it perfectly blocks the dust particles in the air and does not affect the viewing of outdoor scenery.
If it is an outdoor camp, choose a rough outdoor terrain, and add a layer of the load-bearing frame to build it completely. Whether it is used for camps, luxury resorts, or restaurants, it can be competent. Crystal Star Empty House is not only low in installation cost but also made of environmentally friendly PC materials, which are easy to recycle later and will not pollute the environment.