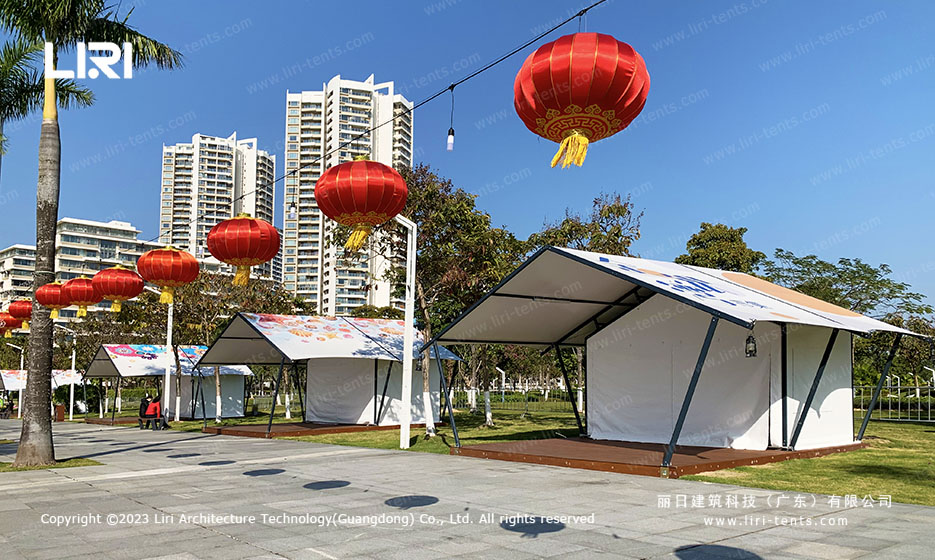 Festive shopping streets are becoming increasingly popular, so a stylish and personalised festive shopping tent is becoming especially important. You might think that customizing a proper festival party tent would be difficult, but actually, it's very simple. You just can't find the right tent factory manufacturer.
Liri-tents has been supplying over 150 different types of aluminium party tents for holiday shopping, shopping mall events, and wedding parties for over 25 years. The classic aluminium pole tents and fence tents are extremely fast to set up as well as being inexpensive. Provide digitally printed advertising hoardings and canopies that quickly blend into the ambience of the shopping street.
The 4x6m festival shopping tent is specially manufactured for temporary events, festival shopping, and outdoor parties. A shop tent that can accommodate both business and goods. It is an excellent choice even for semi-permanent shop operations. The white and digital print on the top and sides effectively distinguishes the shop categories.


Festival Party Tents For Sale – Party Tents Supplier
1、Space can be customized – Different sizes such as 3x6m/4x6m/6x8m, height 2m/3m/4m, etc. can be customized according to your needs. Completely fit your shop positioning and space planning needs.
2. Customised fencing information – The tent frame is uniformly made from high-strength aluminium and it is a sturdy temporary shop. We offer digitally printed hoardings and pegboards with brand logos/product information/personalized graphics etc.
3. Multi-functional planning – Just like your home, you can place air conditioning, a front desk, and production equipment, the space is up to your imagination and design. Optional tent accessories include lighting, flooring, doors, and curtains.
4. Set up anywhere – from uneven grass to superstores or rooftops, you can choose any location to set up your shop tent.
5、Flexible rental options – for semi-permanent use, you can buy or rent. Liri-tents offers tent delivery and installation and collection services in most countries to meet the requirements of our customers.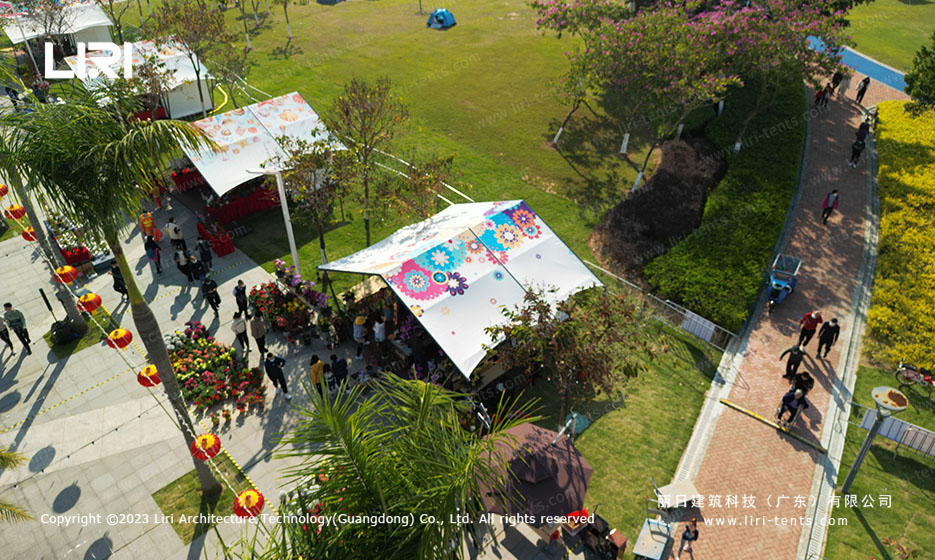 Torn: Which Festival Tent Is The Cheapest And Best For Me?
What I want to tell you is this: cost determines quality. A search on the internet will give you thousands of festival tents to choose from in terms of shape, support method, color, and material. For example, fiberglass poles, steel poles, aluminium poles, folding poles, and even wooden poles, with huge differences in support capacity depending on the material. If you are looking for quality and stability, I recommend an aluminium festival tent. It has a service life of at least 5 years.
In addition to the traditional pop-up pole tent, there are also hotel tents and new camping tents converted into festival shop tents. The benefits are the novelty of the shape and the attraction to guests, as well as the large space reserved for operating a large shop space. It seems very easy to decorate the shops in advance according to different festivals and commercial themes. Of course, they can be slightly more expensive.
Some commercial walkways purchase a large number of event tents at once, which can be cheaper. If you want something special, something with style, some promotional advertising boards, or some unique spacing indoors, see if we have what you want.