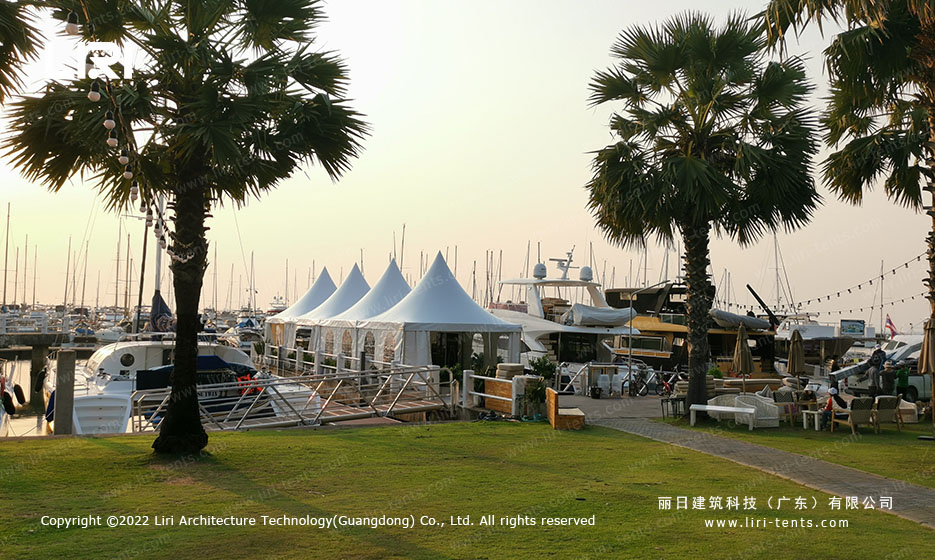 Pagoda tents or pavilion tents can provide a small temporary space for any outdoor parties. Outdoor parties are of a short duration and require limited space. If you are looking for a tent or beautiful canopies to provide shade and rain protection for your events, Liri tents can provide you with the perfect temporary outdoor mini pagoda party tent.

Advantages of Mini Pagoda Party Tents
We offer a variety of high-quality tents for you to choose from. Our mini pagoda party tents range in size from 2m to 6m and in area from 4sqm to 36sqm. There are two options for the covers and sidewalls: white or transparent. If you need it, you can also add an aluminum frame glass door.

The mini pagoda tent is compatible with various accessories, such as clear PVC window sidewalls, ground anchors, weight plates, linings and curtains, glass walls, sandwich walls, glass doors, and a rain gutter system.
The decorative style of the mini pagoda tent will have a huge impact on your events. Whether you want to impress the guests or stand out in the event business, a beautiful customized pagoda tent could help you to make it and leave a deep impression on the guests. Therefore, we offer an unlimited customization solution for tents. If you have any inquiries, please feel free to leave us your contact information.
Mini Pagoda Party Tent Parameters
| Span Whidth | Eave Height | Ridge Height | Main Profile |
| --- | --- | --- | --- |
| 2m | 2.3m | 3.65m | 55x55x2mm (4 - channel) |
| 2.5m | 2.3m | 3.93m | 55x55x2mm (4 - channel) |
| 3m | 2.3m | 4.12m | 55x55x2mm (4 - channel) |