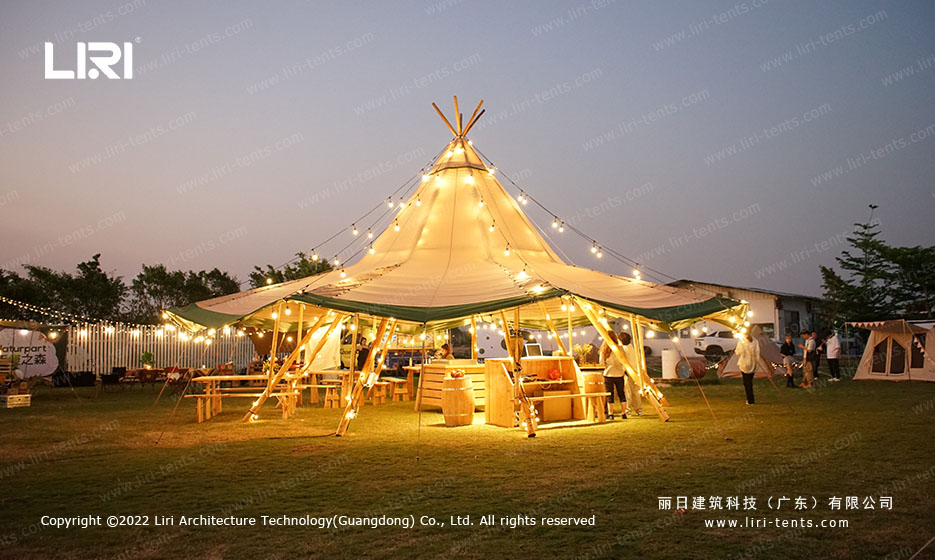 There is a party called the Tipi Camping Party. At the weekend, it's time to meet your friends and head to the campsite for a night of barbecuing, drinking, and enjoying the music. Maybe it's your first outdoor party of the year.
The Tipi Tent For Camping Party
The tipi originates from the conical tent of the Indians, made on a sheet of canvas with several wooden poles. Nowadays, tipi tents have been available in many different sizes and dimensions for outdoor parties, weddings, restaurants, and other scenarios.
This is a 40 people tipi tent for a party, located in the center of this camping area. Incidentally, we also have cases for 20 people and 72 people. We have equipped it with long beer tables, beer kegs, campfire stoves, a bar, and a barbecue to properly create the atmosphere of an outdoor party.

Tipi Party Tent Specifications
As you can see, Tipi tents are available in a wide range of sizes. It can cover almost any requirement for different venues and the number of people to be accommodated. In fact, our factory can make custom sizes on demand.
| | | | |
| --- | --- | --- | --- |
| Model | TP100/14 | TP72/10 | TP40/8 |
| Eave height | 2.1m | 2.1m | 2.1m |
| Ridge height | 9.15m | 6.8m | 5.5m |
| Top height | 9.75m | 7.4m | 6.1m |
| Diameter | 13.8m | 10.3m | 8.25m |
| Diameter when sides are raised | 16.5m | 13m | 11m |
| Floor area | 150m² | 83m² | 50m² |
| Covered area when sides are raised | 210m² | 132m² | 95m² |
| Capacity (standing) | 120 people | 80 people | 45 people |
| Capacity (seated) | 100 people | 72 people | 40 people |
| Capacity (camping) | 70 people | 50 people | 25 people |
| Main poles | Wooden pole Φ80/180x11500mm | Wooden pole Φ70/130x8300mm | Wooden pole Φ70/130x6800mm |
| Weight of Package | about 850kg/set | about 700kg/set | about 300kg/set |