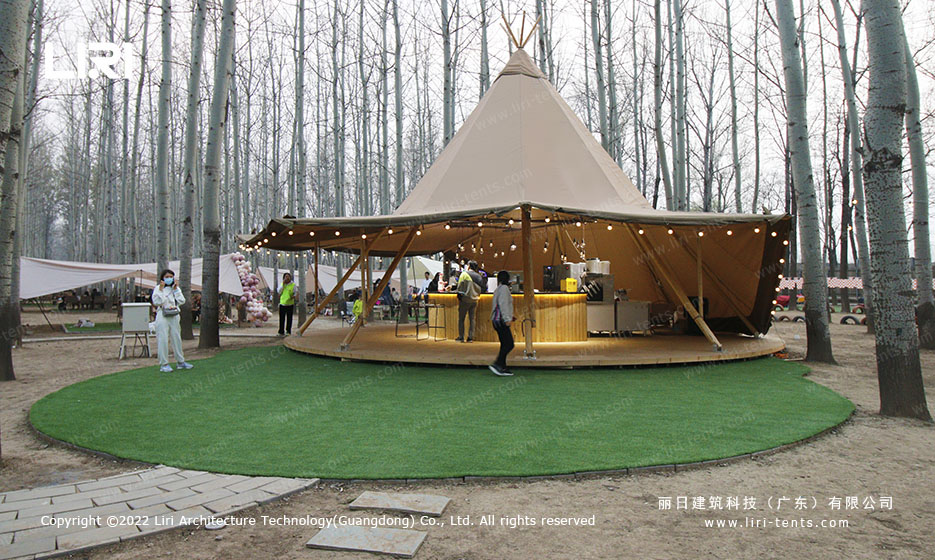 On weekends, there is no need to drive hundreds of kilometers to the outskirts, maybe 20 kilometers to the family farm recreational camping project. The farm center is equipped with a tipi bar, ready to offer guests a drink. It operates daily at 9:00 am and closes at 10:00 pm.
The large tipi tent with a few wooden poles stuck upsides down at the top always tends to occupy the center of the venue. The outdoor 72 people tipi tent is mounted on a wooden floor, enhancing the overall design and also providing a smooth surface.
We wired the tent to provide guaranteed 7×24 power to the bar equipment and chandeliers.

72 People Tipi Tent At Night
The farm project boss says that barbecues, mini-concerts, campsites, outdoor bars, and night-time playgrounds can all be operated at night. People who like outdoor life will like my projects.
The decision to make the 72 people tipi tent in the center of the farm was the right one. A few high-powered lights shining from the center in all directions will illuminate the entire farm. It also has a very positive effect on the management of the farm.
If you would like to know about other tipi specifications, please send us a message.
Tipi Tent Specifications
| | | | |
| --- | --- | --- | --- |
| Model | TP100/14 | TP72/10 | TP40/8 |
| Eave height | 2.1m | 2.1m | 2.1m |
| Ridge height | 9.15m | 6.8m | 5.5m |
| Top height | 9.75m | 7.4m | 6.1m |
| Diameter | 13.8m | 10.3m | 8.25m |
| Diameter when sides are raised | 16.5m | 13m | 11m |
| Floor area | 150m² | 83m² | 50m² |
| Covered area when sides are raised | 210m² | 132m² | 95m² |
| Capacity (standing) | 120 people | 80 people | 45 people |
| Capacity (seated) | 100 people | 72 people | 40 people |
| Capacity (camping) | 70 people | 50 people | 25 people |
| Main poles | Wooden pole Φ80/180x11500mm | Wooden pole Φ70/130x8300mm | Wooden pole Φ70/130x6800mm |
| Weight of Package | about 850kg/set | about 700kg/set | about 300kg/set |