In the evening, an automobile brand held a distinctive new car press conference. Different from the fixed mode released by traditional automobile brands, a translucent dome tent with a diameter of 12 meters is adopted this time. Off-site lighting equipment to render the atmosphere, neatly arranged new cars. On the vast riverside, the press conference is a grand high-level party.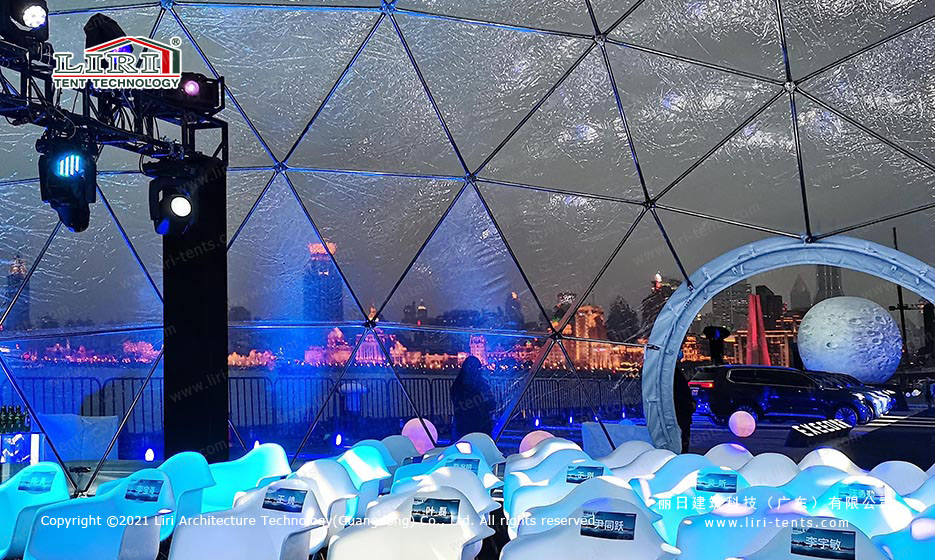 The translucent dome tent is made of high-strength Q235 steel pipes, which are firm and durable. Even repeated installation and removal will not affect the performance. The tent cover is made of PVC fabric with UV resistance, mildew resistance, wind pressure resistance, and flame retardant. Huge display screens and audience seats are placed in the tent. Other accessories such as an air conditioner, speaker, carpet, and other equipment fully meet the needs of the press conference.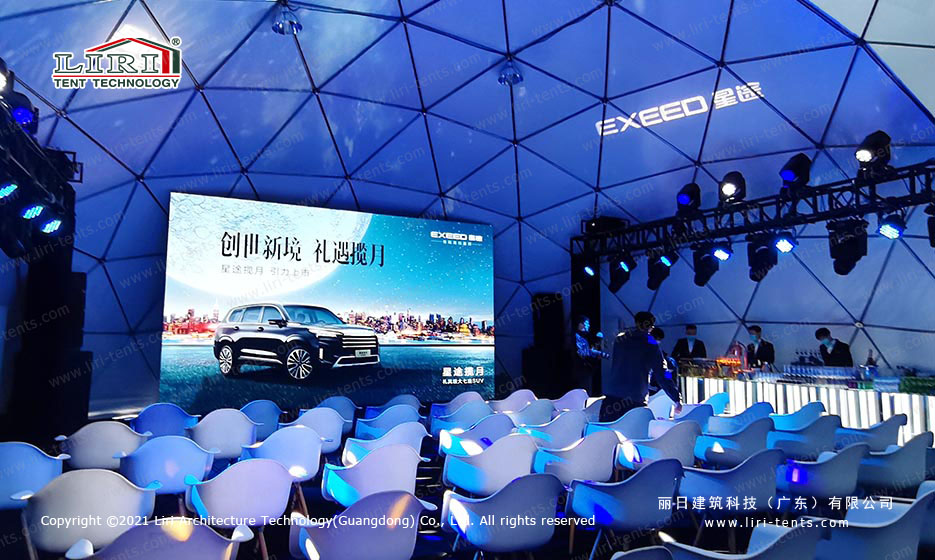 The translucent dome tent has a unique shape and is the first choice for users of many large-scale events and high-quality activities. After years of evolution and structure strengthening, the technology of dome tents is very mature. It can be matched with different PVC fabrics such as translucent, fully transparent, opaque, open shading, etc. The size span of the dome tent ranges from 3m to 60m, which can be used for activities of different scales.
Translucent dome tents Specification
| | | | | |
| --- | --- | --- | --- | --- |
| Diameter | Ceiling Height | Floor Area | Volume | Struts Details |
| 3m | 2.3m | 7.1m² | 12.7m³ | 20mm |
| 6m | 3m | 28.3m² | 70m³ | 20mm |
| 10m | 5m | 78.5m² | 262m³ | 26mm |
| 15m | 6.72m | 176.6m² | 845m³ | 33mm |
| 20m | 10m | 314m² | 2090m³ | 38mm |
| 30m | 13m | 706.5m² | 5744m³ | 48mm |
| 40m | 15m | 1256m² | 11191m³ | 51mm |
| 50m | 20m | 1962.5m² | 23823m³ | 48mm |