Life in the city is so tiresome that people like to try the outdoor, camping life on weekends. In response, we have redesigned the "King of Camping" tipi tent. not only retains its traditional advantages but also adds more details. Our tipi tents are not only innovative and comfortable but can also be used for business purposes.
Multi-Shaped Tipi Party Tent
As the use of tents has become more diverse, we have developed two types of tipi tents, " individual" and " combination". The individual tipi tents can accommodate 6, 12, 16, 25 or more people. There is no great change in appearance. Some models will have retractable chimneys, transparent curtains, and insect-proof grids. Compared with normal camping tents, individual tipi tents will look taller, more majestic, and more advanced.
The combination tipi tents are made up of 2 to 5 individual tents. The capacity varies from 20, 50, 100 to 200 people. It has significantly more interior space but without any village shade. It is usually used in camping campsites, outdoor bars, outdoor restaurants, and other operational places. Still can be quickly installed in different terrains such as forests, parks, concrete, and desert.
Tipi Party Tent Features
support poles made of wood, the number of which is variable.
the tent fabric is available in PVC fabric, oxford fabric, canvas, etc.
sizes of individual tipi tents from 33 m2 to 150 m2.
theoretically, the combined area is increased exponentially.
outdoor scenes such as outdoor restaurants, campsites, wilderness hotels, etc. can be used.
in the case of campsites, it is recommended to use multiple tents.
A complete list of materials is available, please contact us if you need it.
Overseas shipping complies with European certification.
The tipi tent is an ideal choice for owners planning to run an outdoor restaurant, campsite or outdoor showroom. When you are planning are preparing to add a dazzling centrepiece to your premises, tipi tents are a quality option. The presence of a conical tent will catch the eye of most people and at the same time, the conical shape is also very good at distributing and diverting sunlight and rainwater from the track. To a great extent it reduces the wear and tear of the mitigated oxford canvas cover.
In addition to the exterior you see, a lot of thought has been put into the interior of the tipi tent. For example, the conical chimney can be raised and lowered, the mosquito-proof grille, the waterproof inner pads and so on.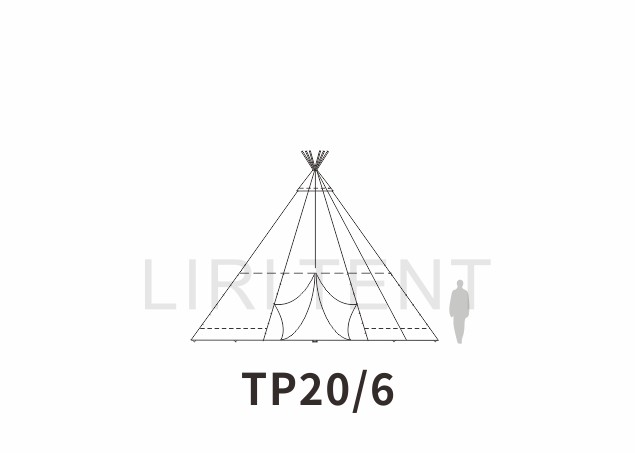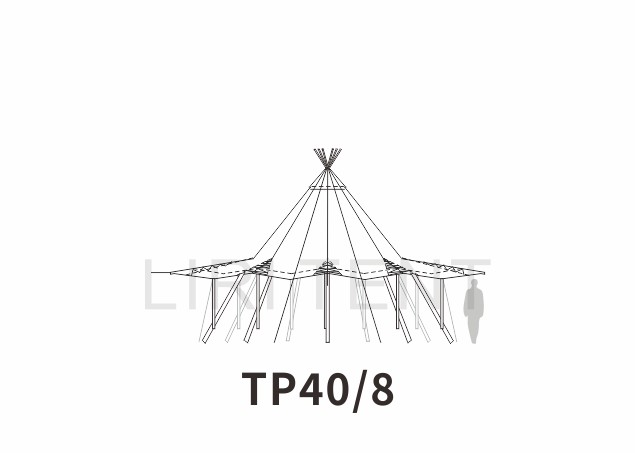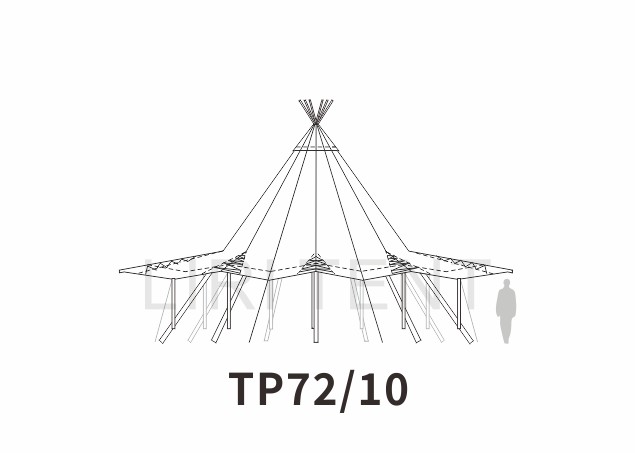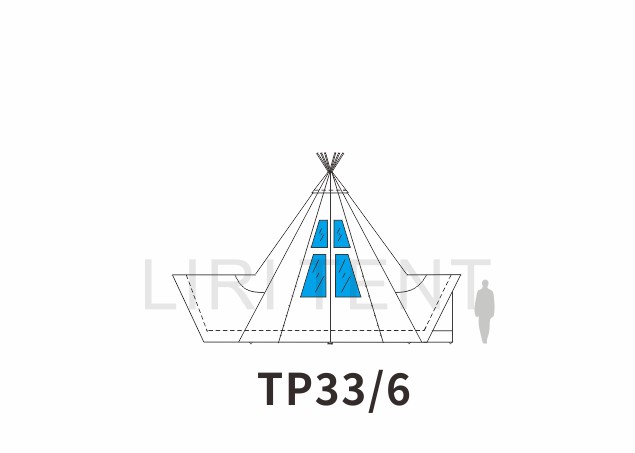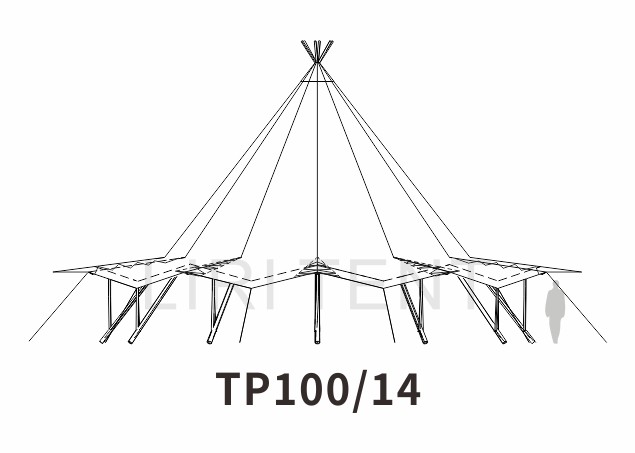 Individual Tipi Tent Range Specifications
| Model | TP100/14 | TP72/10 | TP40/8 | TP28/7 | TP20/6 | TP33/6 |
| --- | --- | --- | --- | --- | --- | --- |
| Eave height | 2.1m | 2.1m | 2.1m | 2.1m | 2.1m | 2.1m |
| Ridge height | 9.15m | 6.8m | 5.5m | 5m | 4.3m | 4.3m |
| Top height | 9.75m | 7.4m | 6.1m | 5.5m | 4.8m | 4.8m |
| Diameter | 13.8m | 10.3m | 8.25m | 7.4m | 6.5m | 6.5m |
| Diameter when sides are raised | 16.5m | 13m | 11m | – | – | – |
| Floor area | 150m² | 83m² | 50m² | 42m² | 33m² | 33m² |
| Covered area when sides are raised | 210m² | 132m² | 95m² | – | – | – |
| Capacity (standing) | 120 people | 80 people | 45 people | 28 people | 20 people | 20 people |
| Capacity (seated) | 100 people | 72 people | 40 people | 24 people | 16 people | 12 people |
| Capacity (camping) | 70 people | 50 people | 25 people | 16 people | 12 people | 6 people |
| Main poles | Wooden pole Φ80/180x11500mm | Wooden pole Φ70/130x8300mm | Wooden pole Φ70/130x6800mm | Wooden pole Φ70/120x6100mm | Wooden pole Φ70/120x5300mm | Wooden pole Φ70/120x5300mm |
| Weight of Package | about 850kg/set | about 700kg/set | about 300kg/set | about 250kg/set | about 200kg/set | about 250kg/set |