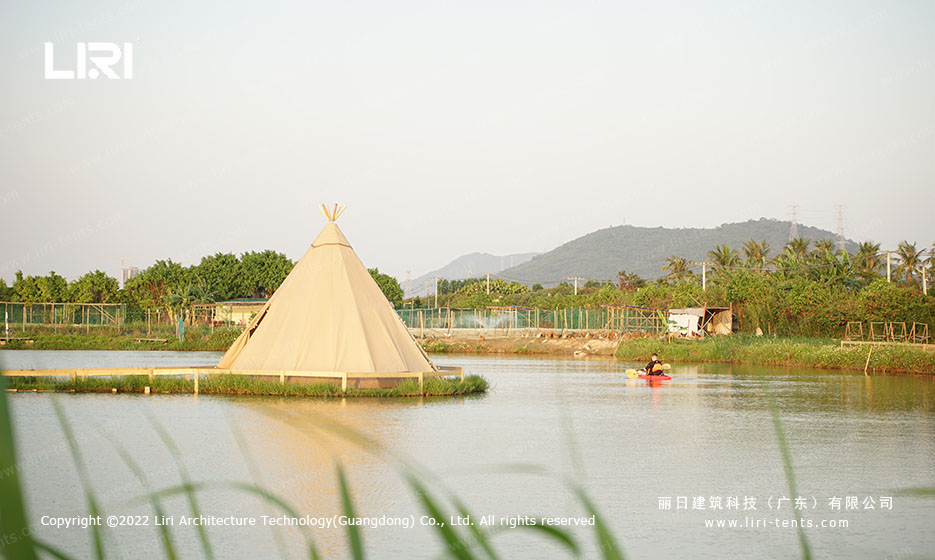 the tipi tent, also known as an Indian tent, is a cone-shaped outdoor tent. Believe it or not, its shape hasn't changed in 100 years. Thanks to its pyramidal shape and khaki canvas, it has excellent resistance to wind and rain.
Nowadays, tipi tents are very versatile and can be used for camping, parties, outdoor restaurants, etc. Therefore, outdoor tipi tents are very popular all over the world.
Original Style Tipi Party Tent
Now, we have transformed and upgraded the traditional tipi tent into an outdoor tipi party tent, or a giant tipi tent. Let it become a larger size and more functional outdoor temporary space.
This tipi party tent is supported by 6 to 12 wooden poles and consists of wooden poles wrapped in tarpaulin. The installation and disassembly process remains very simple. After measurement, this tipi party tent can accommodate 20 people.
This 20 people's outdoor tipi tent with horizontal wood support inside, so it has a full look. In the front, we designed wooden double doors for it, so it is easy for people to enter and exit the tent. We installed LED light strips around it, which can enhance the sense of the atmosphere of the tipi tent at night.
We keep the outdoor color atmosphere of the tipi tents to the maximum: yellow and wood colors. Transparent windows can be opened at the edge of the tent for ventilation. Openings are added to the skirt of the tent for mosquito and insect protection. The same design we used for the smaller size camping tipi tents.
Outdoor Tipi Party Tent Size(part of)
| Model | TP20/6 | TP28/7 | TP33/6 |
| --- | --- | --- | --- |
| Eave height | 2.1m | 2.1m | 2.1m |
| Ridge height | 5m | 5m | 4.3m |
| Top height | 5.5m | 5.5m | 4.8m |
| Diameter | 6.5m | 7.4m | 6.5m |
| Diameter when sides are raised | – | – | – |
| Floor area | 33m² | 42m² | 33m² |
| Covered area when sides are raised | – | – | – |
| Capacity (standing) | 20 people | 28 people | 20 people |
| Capacity (seated) | 16 people | 24 people | 12 people |
| Capacity (camping) | 12 people | 16 people | 6 people |
| Main poles | Wooden pole Φ70/120x5300mm | Wooden pole Φ70/120x6100mm | Wooden pole Φ70/120x5300mm |
| Weight of Package | about 200kg/set | about 250kg/set | about 250kg/set |