Analysis of the data shows clear signs of higher special prices and a slowdown in the economy in the coming months. People will accelerate the hoarding of supplies and there is a risk of a shortage of logistics warehouse space. Large e-commerce companies will accelerate the layout and build additional temporary warehouses in terms of logistics efficiency. Set up logistics warehouses in various transportation hubs and key city nodes. A large number of temporary tents and large tents for storage will be inevitable.
Storage Temporary Tent Advantage
The primary advantage of temporary tents is that they are extremely fast to build. With modular construction, all components can be produced in advance at the factory and simply installed in the construction area. With an average construction speed of several thousand square meters per day, this greatly satisfies the temporary needs of logistics companies. Analyzed from a benefit point of view, this saves a lot of labor, material, time, and material costs.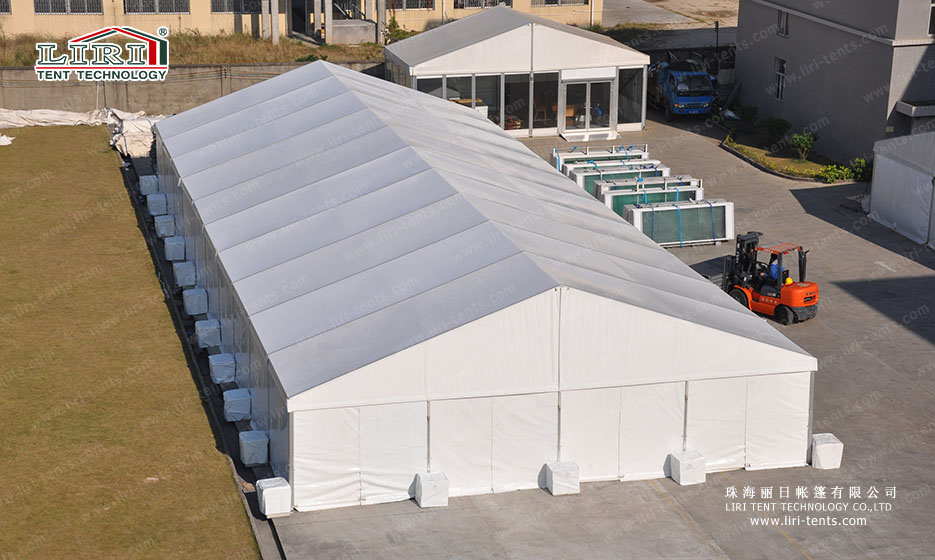 The second reason is that it can be disassembled and installed repeatedly. Many logistics companies have a variable storage area, which changes as directed by the location of the items. These tent materials will be forwarded to the factory for safe keeping and ready for rental. In addition, they can be rented not only to event planning companies but also to exhibitions.
The last reason is that the tent does not make much noise when it is installed. It has to fix methods such as expansion bolts and mesh frame bearing. Different fixing methods are chosen according to the ground conditions. Even if it is installed in a residential area, it will not make a huge construction noise and damage the ground structure. This is the reason why many temporary tents can be erected in one night.
Storage Tent Specification
| | | | | |
| --- | --- | --- | --- | --- |
| Span Whidth | Eave Height | Ridge Height | Bay Distance | Main Profile |
| 5m | 4.2m | 5.05m | 5m | 204x120x4mm (4 - channel) |
| 7.5m | 4.2m | 5.46m | 5m | 204x120x4mm (4 - channel) |
| 10m | 4.2m | 5.84m | 5m | 204x120x4mm (4 - channel) |
| 12m | 4.2m | 6.16m | 5m | 204x120x4mm (4 - channel) |
| 15m | 5.2m | 7.6m | 5m | 256x121x5mm (4 - channel) |
| 20m | 5.2m | 8.4m | 5m | 256x121x5mm (4 - channel) |
| 25m | 5.2m | 9.2m | 5m | 300x120x5mm (4 - channel) |
| 30m | 5.2m | 10m | 5m | 350x120x5mm (4 - channel) |