There are data suggesting that prices will rise in the coming months and there are clear signs of an economic slowdown. People will be hoarding and there are short-term risks for logistics warehouse companies. Large logistics factories and e-commerce companies will build more temporary warehouses. In the past, large logistics warehouses were built in major cities, key towns and transport hubs. Now, with the popularity of frame tents, more and more logistics warehouse tents and logistics storage tents will appear rapidly.
Temporary Storage Tent Advantage
The primary advantage of temporary tents is that they are extremely fast to build. With modular construction, all components can be produced in advance at the factory and simply installed in the construction area. With an average construction speed of several thousand square meters per day, this greatly satisfies the temporary needs of logistics companies. Analyzed from a benefit point of view, this saves a lot of labor, material, time, and material costs.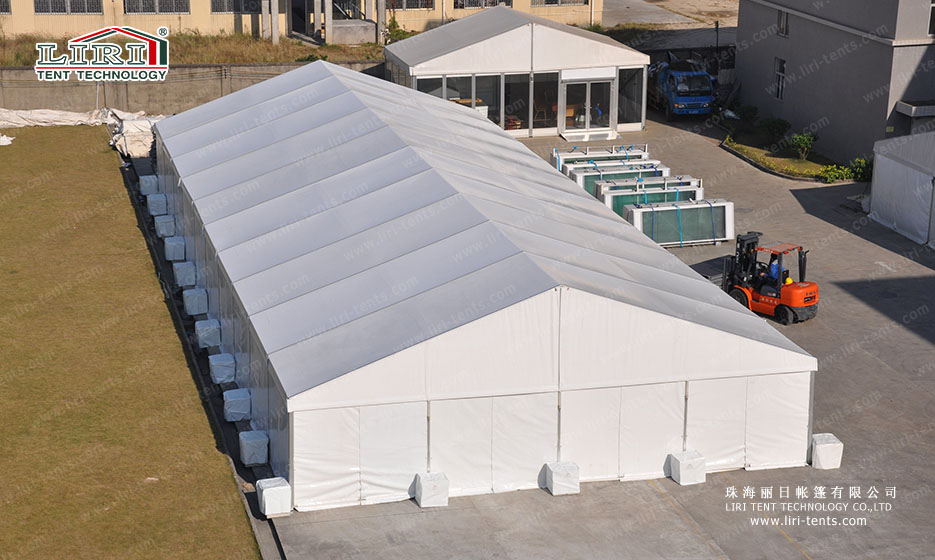 Many companies do not actually have a fixed storage area. Often it changes depending on the season and the type of goods. This is where a movable tent can be advantageous.
Storage Tent Specification
| | | | | |
| --- | --- | --- | --- | --- |
| Span Whidth | Eave Height | Ridge Height | Bay Distance | Main Profile |
| 5m | 4.2m | 5.05m | 5m | 204x120x4mm (4 - channel) |
| 7.5m | 4.2m | 5.46m | 5m | 204x120x4mm (4 - channel) |
| 10m | 4.2m | 5.84m | 5m | 204x120x4mm (4 - channel) |
| 12m | 4.2m | 6.16m | 5m | 204x120x4mm (4 - channel) |
| 15m | 5.2m | 7.6m | 5m | 256x121x5mm (4 - channel) |
| 20m | 5.2m | 8.4m | 5m | 256x121x5mm (4 - channel) |
| 25m | 5.2m | 9.2m | 5m | 300x120x5mm (4 - channel) |
| 30m | 5.2m | 10m | 5m | 350x120x5mm (4 - channel) |