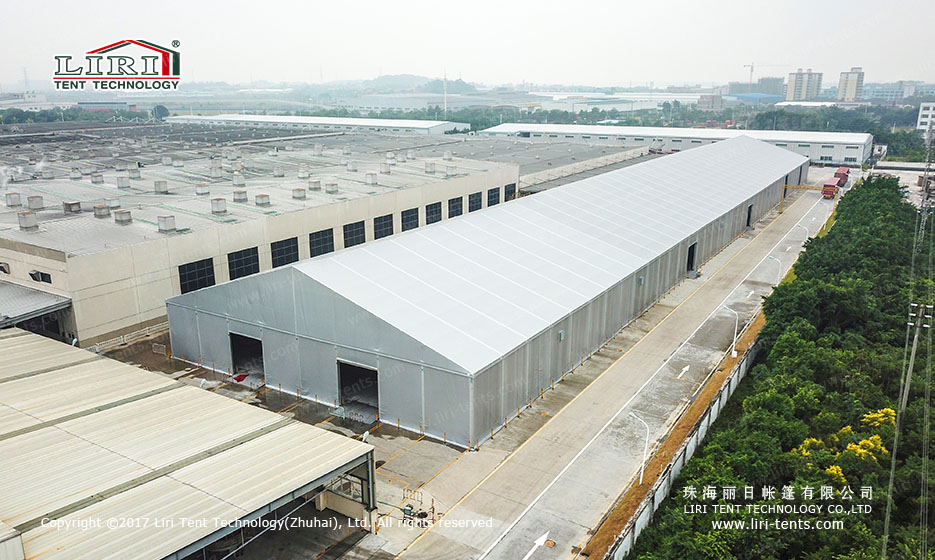 Many factories and logistics companies will encounter the situation of bursting warehouses and suddenly cannot find a place to store materials. In the face of high rents and valuable land resources, more and more manufacturers are choosing cost-effective warehouse tents and storage tents.
The cost advantage of frame tents over traditional warehouses is very clear. The traditional warehouse building is difficult to renovate, high cost, difficult to maintain, and other problems, frame tents are not. So, what matters need to have attention to choose a storage tent? How can I choose a high-quality warehouse logistics tent?

Main Frame
The industrial-grade storage tent adopts aluminum alloy material 6061-t6, high-strength industrial aluminum alloy as the frame. It has the advantages of lightness, durability, and corrosion resistance.
The common shape of a storage tent is a herringbone and spire. The simpler the shape, the cheaper the cost.

Double-Layer PVC Tarpaulin
What is the material used to cover the tent roof? High-quality PVC double-sided knife-scraped coated tarpaulin. Double-sided waterproof, flame retardant, anti-UV heat insulation, soft and easy to fold. It does not stiffen and crease, even in cold weather and when folded many times.

Industrial/Storage Tent Accessories
Customers with higher requirements for large-scale manufacturing and safety features can choose tempered glass, ABS rigid walls, color steel composite panels, color steel sandwich panels, rock wool sandwich panels, etc. as surrounding walls. They can well meet the special requirements of heat preservation, cooling, and leakage prevention.
In terms of appearance, there is not much difference between industrial storage tent and a traditional steel structure warehouse; but in terms of economic benefits and other aspects, the industrial storage tent is far better than a traditional steel structure in terms of economy and flexibility. Under normal circumstances, a warehouse tent of 1000 square meters can be set up in 1-2 days.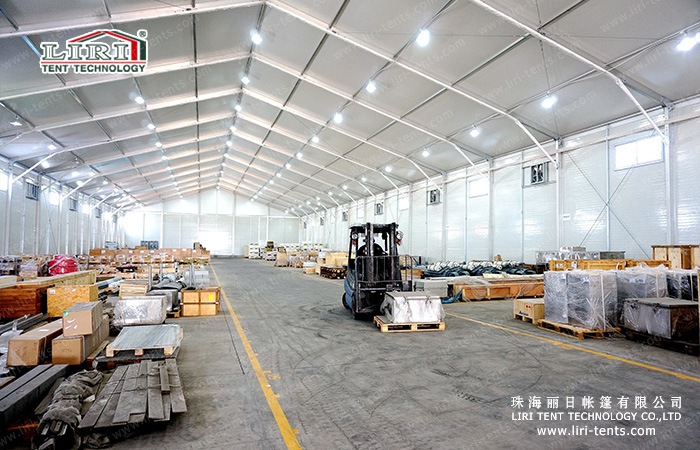 As an assembled building, the storage canopy has the advantages of easy erection, simple approval, and high-cost performance. If you can't find a suitable warehouse site or need temporary storage of materials, then the storage tents are undoubtedly a good choice.