Nowadays, many soon-to-be-married couples tend to hold their weddings in a specific peak season, which leads to an awkward situation. It is quite difficult to book a restaurant or hotel for the wedding party. However, we have a better wedding venue solution for you. Just find a open space nearby to install wedding reception tents and catering tents. Wedding planner can decorate it with lighting, lining and curtains, flowers, etc. to create a warm and romantic atmosphere. Guests will feel like enjoying a wedding party in a luxury hotel.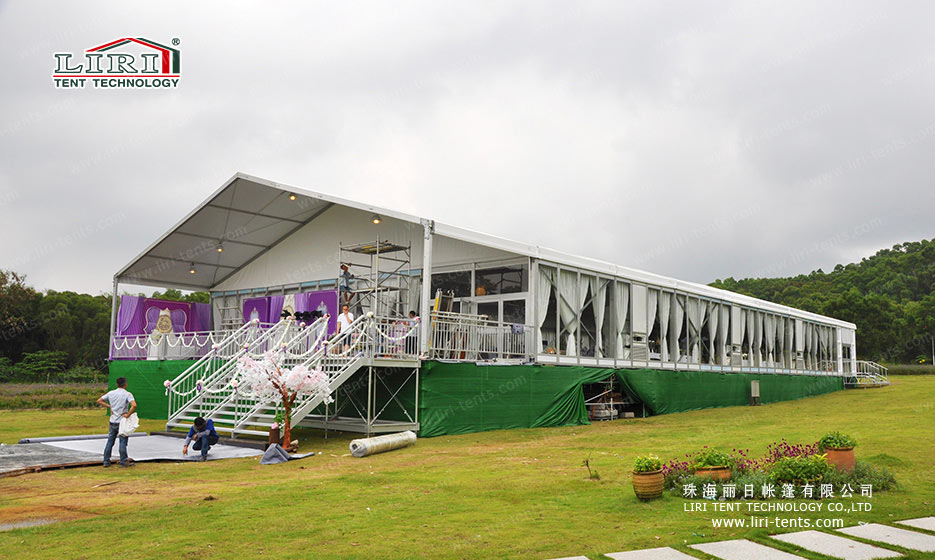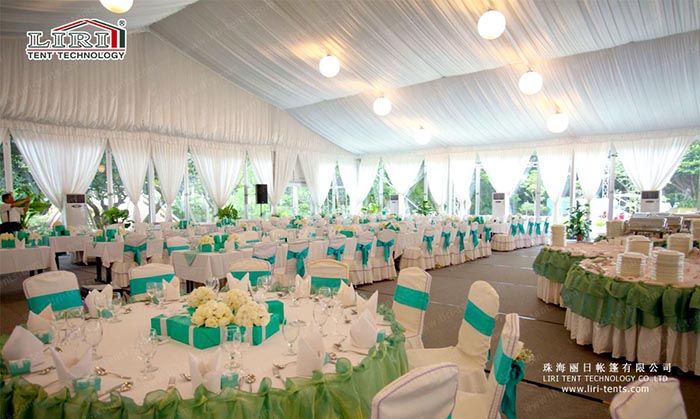 Why Choose Wedding Reception Tents from Liri Tent?
Liri Tent has over 20 years of experience in the wedding rental business. Specially, we know how to hold an unforgettable wedding party with wedding catering tents. There are lots of successful cases around the world.
You can tell us the theme of your wedding, then we will design and decorate the tent accordingly. Sure, you can also inform us about your idea, our designers can recommend you the best solution.
Based on its modular design, the size and shape of our tents for a wedding reception can be bespoke. You can use a big wedding ceremony tent when space is big enough. When it comes to a small space, a gazebo wedding tent will be perfect.
Gazebo Tents Dimensions
| Span Whidth | Eave Height | Ridge Height | Bay Distance | Main Profile |
| --- | --- | --- | --- | --- |
| 10m | 3.88m | 5.53m | 5m | 204x120x4mm (4 - channel) |
| 12m | 3.88m | 5.83m | 5m | 204x120x4mm (4 - channel) |
| 15m | 3.88m | 6.3m | 5m | 204x120x4mm (4 - channel) |
| 16m | 4m | 6.5m | 5m | 204x120x4mm (4 - channel) |
| 18m | 3.88m | 6.9m | 5m | 204x120x4mm (4 - channel) |
| 20m | 3.88m | 7.1m | 5m | 204x120x4mm (4 - channel) |
| 20m | 6m | 9.22m | 5m | 204x120x4mm (4 - channel) |
| 21m | 3.88m | 7.25m | 5m | 204x120x4mm (4 - channel) |
| 25m | 3.88m | 7.88m | 5m | 204x120x4mm (4 - channel) |