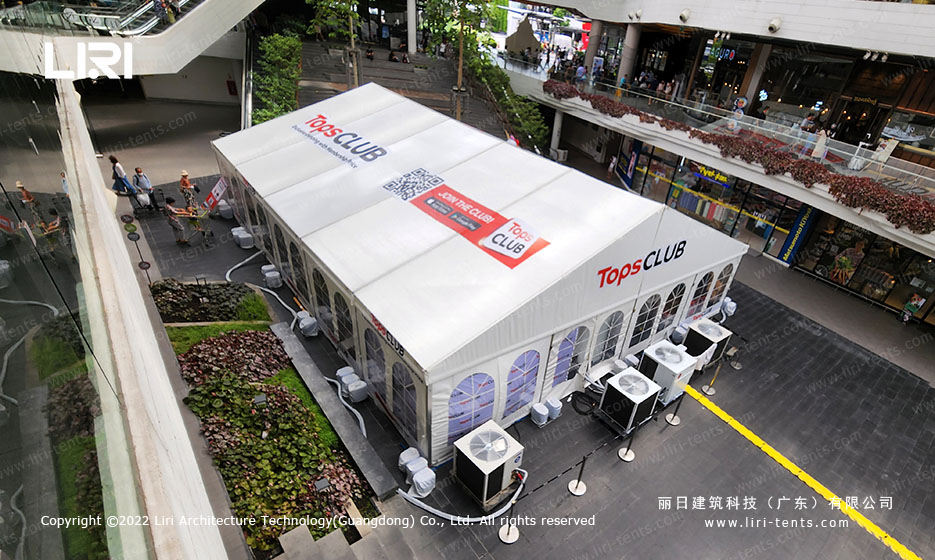 When you plan an outdoor party, there are many things to do before the event. Notifying guests, arranging food and drinks for the party, discussing the flow of the event, choosing a location for the event, and so on. The list is endless. Since it is an outdoor party, creating a comfortable environment for the event becomes a priority. In this case, a party tent can be the perfect solution.
Believe it or not. In recent years, party tents have become increasingly popular for outdoor events. And more and more outdoor scenes prefer this type of clear-span tent. Events that require special decorations and themes. On the one hand, tents give designers a lot of room to play with when it comes to designing the event setup. This is very different from contract rooms in hotels and malls, where space is at a premium.
If a large mall needs to host a themed event during a festival and there is a lack of temporary space, consider a mall tent.
Why Shopping Marquee
Among the many factors, the freedom to set up the venue is the main reason for choosing it. People can celebrate close to nature without worrying about the weather. Whether it's a stormy day or a hot sunny day, the event can still go on as planned. Guests can still enjoy the unique outdoor party in the comfort of the tent.
Whether it's a fancy hotel banquet hall or a contract room in a shopping mall, there will always be a depressing amount of space. A party tent can give you a room height of 6-8m and 100% usable space. From the exterior, fabrics, frame colors, interiors, hangings, and more, there is complete freedom to play with. Truly a myriad of design styles for the same canopy.

Hiring A Marquee Is More Cost-Effective
In reality, most venues don't host events and parties very often, and buying a tent doesn't seem cost-effective. So, rent a tent. For those with long-term projects, you may want to consider buying a tent outright. This is because you can save money by buying a tent outright compared to renting one.
Rent a tent that suits your needs, and through careful design and decoration, create a unique outdoor party that your guests will remember for years to come. No need to worry about choosing a venue for your event, renting a marquee solves this problem for you.
We offer a full installation service including transport, installation, and maintenance. Our canopy rental company will provide our customers with a professional technical team to help solve any problems and meet any needs. This will ensure that the project runs smoothly and the rental company will provide the customer with technical instructors and the appropriate installation equipment.

Party Tent Specification
| Span Whidth | Eave Height | Ridge Height | Bay Distance | Main Profile |
| --- | --- | --- | --- | --- |
| 30m | 4m | 8.9m | 5m | 350x120x5mm (4 - channel) |
| 40m | 4m | 10.5m | 5m | 350x120x5mm (4 - channel) |
| 45m | 4m | 11.38m | 5m | 350x120x5mm (4 - channel) |
| 50m | 4m | 12m | 5m | 350x120x5mm (4 - channel) |
| 60m | 4m | 13.6m | 5m | 350x120x5mm (4 - channel) |