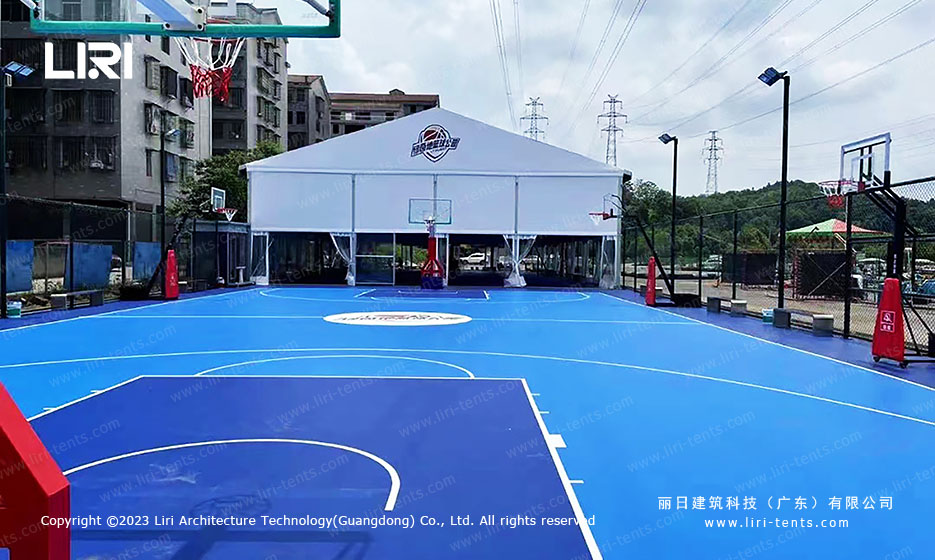 Outdoor basketball courts have two drawbacks: daytime exposure and nighttime unavailability. This means that half of the day is unusable and sports equipment deteriorates at an accelerated rate. Nowadays, sports tents can be a perfect solution to these two disadvantages – a large clear-span tent.
Party Tent Solutions For Outdoor Sports Court
Savvy business people are always looking for opportunities to get rich. Addressing the shortcomings of outdoor basketball courts must hide a business opportunity. Improve the usage hours of outdoor basketball courts and prolong the service life of basketball court equipment. Customized large party tents 10x20m, 16x30m, and 20x50m depending on the size of the venue. Quality aluminum alloy frame ensures the safety of the tent and has a 20-year service life.
There are no pillars in the large party tents for 100% space utilization. From the air to the ground, it is 100% utilization efficiency. You can divide the spectator area, equipment area, janitor area, temporary restrooms, and more by function. What you need to consider is how to improve the experience of using the basketball court.