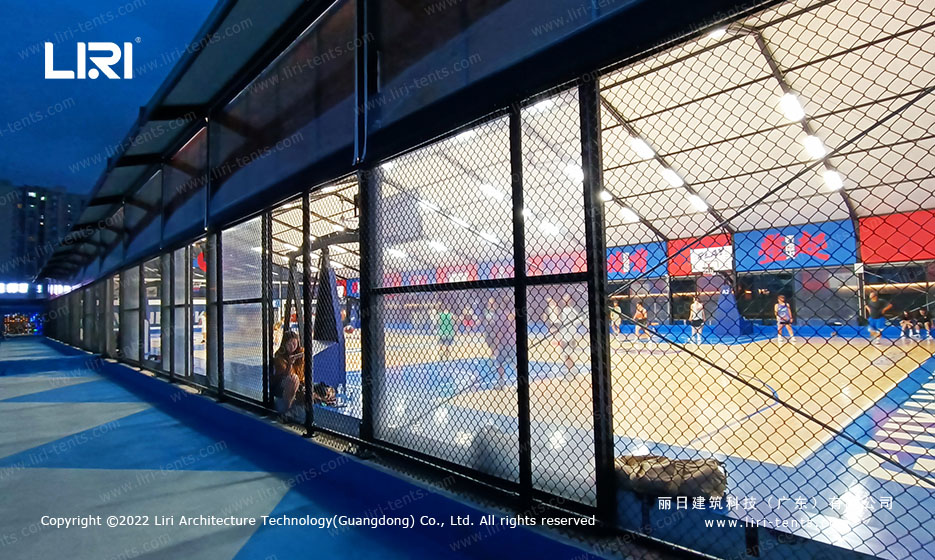 If you need to host a sporting event or add a cover to a sports field, then it is important to choose the right sports event tent. Unlike ordinary cover tents, sporting event tents have more specialist needs. It provides athletes with the best possible place to train and compete. It can improve both the usual sports environment and the management and profitability of the venue.
Why You Need A Sporting Events Tent
Outdoor basketball courts are one of the most popular places for people to go. It is often wind-blown, badly damaged facilities and no management staff to maintain them. We have introduced sports event tents that are low-cost, quick to install, removable, robust, and durable. They are sun, wind, snow, hail, rain, rust, and flame resistant. The basketball court sports tent can also be used as a permanent structure.
Many outdoor basketball courts were open air a week ago and a sports hall tent a week later. Its interior space does not have any columns and can therefore be used 100% of the time. Multiple offices, toilets, changing rooms, and other forms of spatial structure can be built inside the tent. Our large basketball court tent has a modular design and many features can be added gradually. For example, if the interior is hot and stuffy in summer, the perimeter curtain is removed, while in winter thicker curtains and ventilators are added.
After years of accumulation and exploration on our part. Whether it is a basketball court cover, a tennis court, or a swimming pool, we can offer a range of temporary and permanent modular building solutions.
Sporting Events Tent Advantages
Short construction period
Low cost
Rich appearance
Unlimited site construction, fast construction
100% structure can be disassembled, assembled, and recycled
Windproof and rainproof
24/7 operation
Differences in economic levels between cities have resulted in many outdoor sports fields not being effectively protected or even being semi-deserted. The annual expenditure on the maintenance of sports fields is enormous. Once a sports event tent has been chosen, there is a large expense to be incurred. However, in terms of long-term economic benefits, sports event tents create many jobs and promote the long-term development of sports equipment.
The sports event tent is the most promising temporary sports building available. It can make the most of urban space, whether it is on top of a building, under a bridge, or in a community park, any type of ground can be erected. The combination of aluminum and PVC tarpaulins allows for the quick stitching together of various sizes of sporting event venues. Ample space is provided for different types of stadium spaces and temporary events.