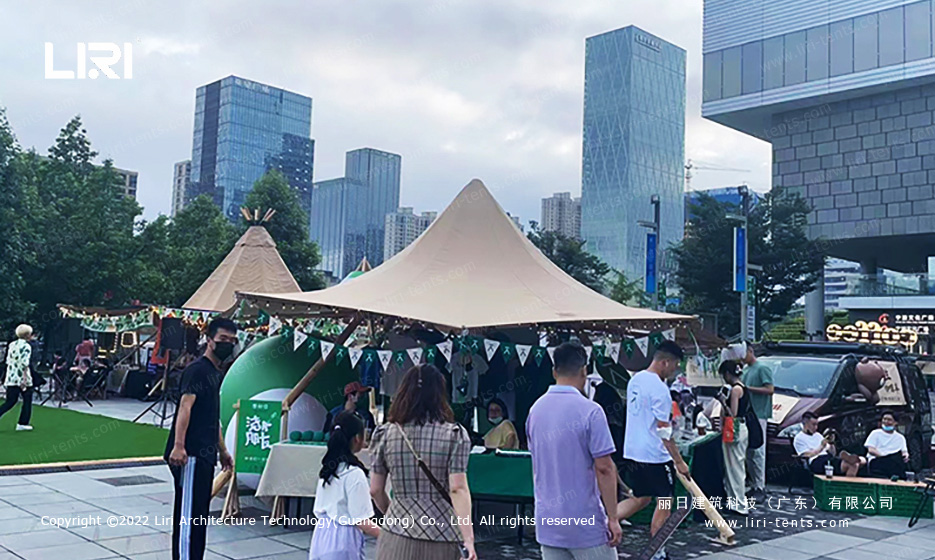 During the summer, business events in the city become frequent and characteristic, making many people want to participate in one. Examples are car shows with more than 1,000 people, street basketball tournaments with 500 people, and product shows on commercial pedestrian streets. They all have one characteristic. The tent is the center and the event space is spread out in all directions. The larger the commercial event, the more you need one or more large tents.
Unlike trade centers and super malls, outdoor commercial activities have a good basis for interaction. When you pass a stall, you subconsciously look twice or ask the merchant for more information. And because outdoor events do not have exorbitant entry fees, booth fees, management fees, etc., it has a low cost of entry. Only the cost of renting tents and related accessories. And, the technology of tents for commercial activities is now very mature.
16 People Tipi Tent Center
The case was located in a cultural square in the city, between a concrete floor and a lawn. A 16-person tipi tent was used in the case. This tent is perfect for camps and commercial use as a semi-permanent structure. It is a multifunctional tent with a wide range of sizes available to the merchant. There are both 4 and 8-person tents for camping, 20 and 50-person booth tents, and 100 and 200-person restaurant tents and showroom tents.
The tipi tent has an all-natural outdoor atmosphere with wooden poles and canvas as the main material. The canvas is propped up to allow for ventilation and cooling. In terms of decoration, advertising flags and string lights are the main focus. Organizers look for the atmosphere created by commercial tipi tents in their applications, saving a lot of money on tools and advertising.