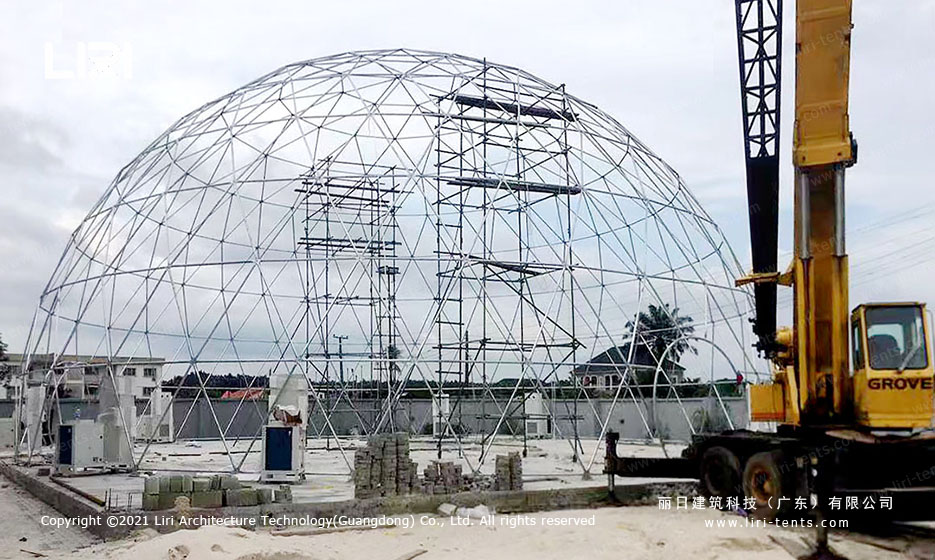 The combination of transparent film and dome tent is the clear top dome tent, which can be used for parties. Made of transparent PVC tarp and aluminum alloy frame. Made of high-strength Q235 steel pipe, the design is sturdy, removable, and reusable. Stylish appearance, giving a feeling of understated simplicity. Transparent PVC tarp is UV resistant, anti-corrosion, mildew resistant, anti-aging, wind-resistant, waterproof, and flame retardant.
We build dome tents with a span width of 3m to 60m, which can be applied to scenes such as exhibitions, theme events, open-air weddings, and movie conferences. While enjoying the soft sunlight and seeing the natural scenery outside, you can also sit elegantly in it.
Clear Top Dome Tent
6m to 12m diameter clear top dome tents are the best sellers. It can be applied in yoga rooms, garden restaurants, theme parties, and other outdoor scenes. Stunning clear dome tents provide a warm and comfortable refuge for customers. During the day there is always natural light coming in, bringing comfortable heat inside the tent. At night, hang the rainbow chandelier and the tent will turn colorful.
A table and several floor mats are a yoga training room. A long table and several chairs is an outdoor dining room. A bed and family accessories is a party tent. Wherever you build, a clear top
dome tent will give you the perfect solution for your outdoor activities.

Clear Top Dome Tent Specification
| Span Whidth | Eave Height | Ridge Height | Bay Distance | Main Profile |
| --- | --- | --- | --- | --- |
| 6m | 2.6m | 3.48m | 3m | 100x48x3mm (4 - channel) |
| 8m | 2.6m | 3.82m | 3m | 100x48x3mm (4 - channel) |
| 9m | 2.6m | 4m | 3m | 100x48x3mm (4 - channel) |
| 10m | 2.6m | 4.18m | 3m | 100x48x3mm (4 - channel) |
| 12m | 2.6m | 4.52m | 3m | 100x48x3mm (4 - channel) |