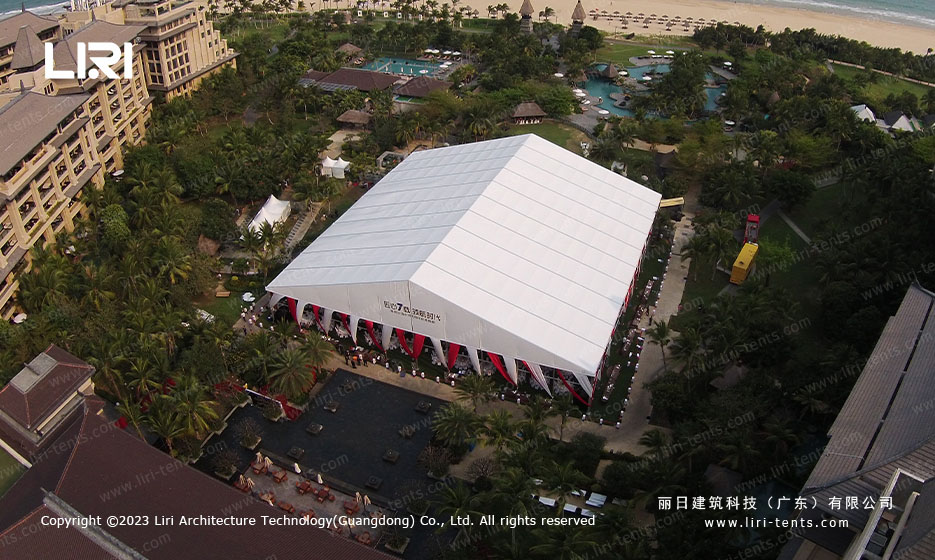 In the heat of summer, an outdoor dining tent offers guests comfort and tranquility in uneven outdoor terrain with a temporary indoor space. This does not mean that comfort, ambiance, and functional areas have to be sacrificed to accommodate outdoor dining tents. Especially when the footprint reaches 20x50m and even more in size.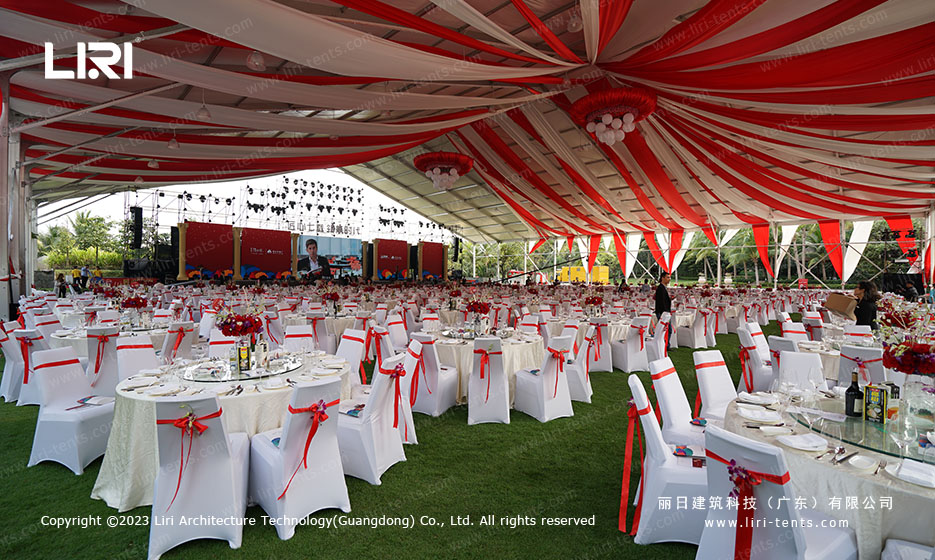 The white top and clear glass side walls give a more open feel to guests. Who can resist such temptation when you can enjoy the soothing ambiance from the outdoor view and also enjoy the delicious all-in-one food?
The massive space is topped with lighting, central air conditioning, and cloth curtains to create a comfortable dining environment for guests, and is even perfect for outdoor wedding tents.
There is no gorgeous space, only gorgeous decorative design. The combination of a gorgeous stage in front of the tent, decorations that fit the theme, and neat white tables and chairs is just like the ideal wedding venue and luxury restaurant.
Qualified operators will not compress the working space of employees. The way to isolate the kitchen and break room is not only the partitioned room but also the separate kitchen tent. Because they are cheap enough to make.
Liri-Tents offers custom-sized restaurant tents that provide versatile temporary spaces for sustainable operations for outdoor dining businesses. Our outdoor restaurant tents are made with aluminum frames that can withstand force 10 winds as well as harsh weather in different seasons. For a long time, Liri-Tents has been providing reliable outdoor restaurant tents to restaurateurs all over the world.

Multi-Functional Accessories
Frame struts: hard-pressed extruded aluminum 6061/T6(15HW)
Fabric cover: high quality double PVC-coated polyester textile; 100% waterproof; flame retardant to DIN4102 B1, M2, CFM; UV resistant, tear-resistant, self-cleaning ability, etc
Connector: strong hot-dip galvanized steel
Allowed temperature condition: -30 degree Celsius +70 degree Celsius
Wind load: max. 100km/h
Snow load: 75kg/sqm (snow can't stay if use big degree roof pitch design)
Easy to assemble and disassemble
No pole inside, and 100% available interior space

Outdoor Tent Use Scenarios
We also have a large number of high-quality party tent cases. Among them, there must be a tent you need for the following scenarios:
1, planning a large exhibition must have a unique shape and a low enough budget tent. Common herringbone white PVC fabric top tent is the choice of most people, and the rental price is really low enough.
2, need to set up in a pleasant backyard to accommodate 100 people party space. You can choose an arch tent, round tent, or polygon tent, there are a variety of choices in appearance, and roof shape.
3、Are facing a lack of space and urgently need to expand the space to provide shelter space for people and things. It can be a warehouse, store, church, etc.