Warehousing provides the backbone of the product store. Our warehouse tents are the perfect solution for temporary or semi-permanent storage. Many people widely prefer clearspan structures over brick-and-mortar frames for a lot of reasons. One of the main advantages is due to its modular and flexible design. Moreover, this kind of tent provides maximum floor space.  When you need a temporary structure to be installed for a short period of time, these storage tents will be the best option.
Warehouse Tents for Safe Storage
Tents have been widely used by a large number of business organizations for storage purposes. A tent with side walls or a fully covered tent acts as a safety locker for storing your stuff. Storage Tents are mostly used during camping trips, construction sites, homes, and in many other businesses. These spectator areas are very easy to carry, lightweight, and PVC coated to make them water resistant. This type of tent comes in different sizes and one can install a temporary storage of an appropriate size to meet clients' requirements.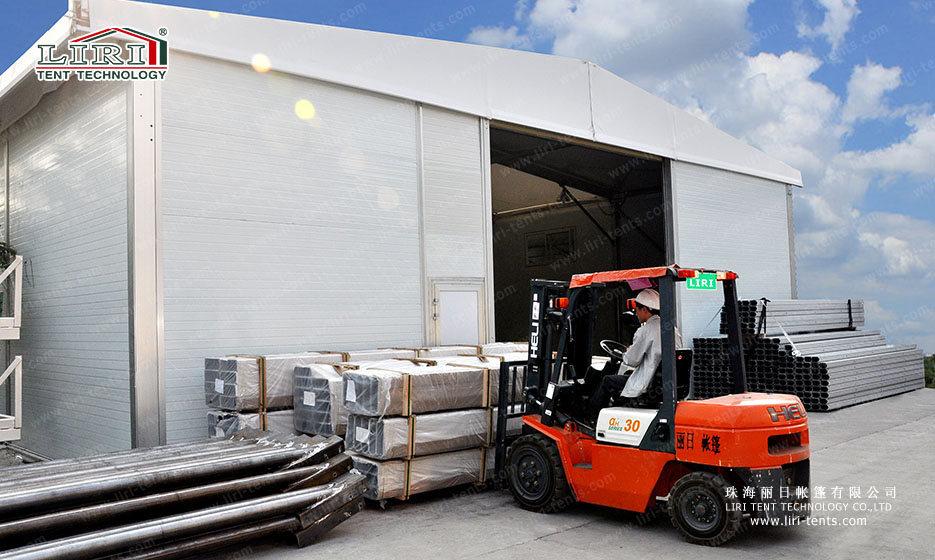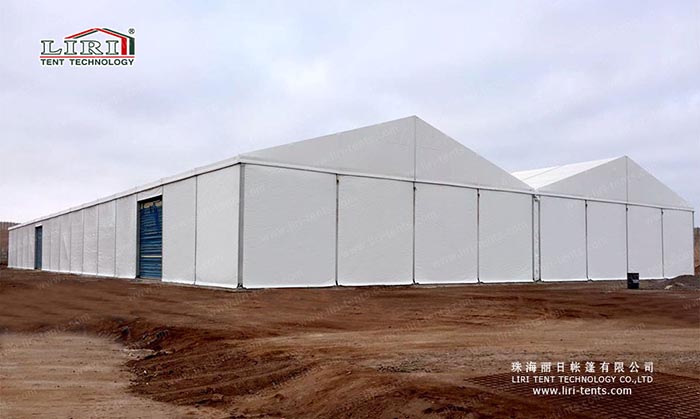 If you want to know more about these warehouse shelters, just SEND your detailed product inquiry. We will get back to you as soon as possible. We are the first and largest party tents manufacturer in China.
Warehouse Tents Dimensions
| | | | | |
| --- | --- | --- | --- | --- |
| Span Whidth | Eave Height | Ridge Height | Bay Distance | Main Profile |
| 5m | 4.2m | 5.05m | 5m | 204x120x4mm (4 - channel) |
| 7.5m | 4.2m | 5.46m | 5m | 204x120x4mm (4 - channel) |
| 10m | 4.2m | 5.84m | 5m | 204x120x4mm (4 - channel) |
| 12m | 4.2m | 6.16m | 5m | 204x120x4mm (4 - channel) |
| 15m | 5.2m | 7.6m | 5m | 256x121x5mm (4 - channel) |
| 20m | 5.2m | 8.4m | 5m | 256x121x5mm (4 - channel) |
| 25m | 5.2m | 9.2m | 5m | 300x120x5mm (4 - channel) |
| 30m | 5.2m | 10m | 5m | 350x120x5mm (4 - channel) |