The two story tents are also made from a modular system like traditional clear span structures. The length can be extended by 5m bay section without a limit, which is the same as the normal clear span tents. Two story tent is a remarkable design specially for saving space when planning outdoor events. For example, it is for high end parties, sporting events like golf tournament, and shows. These modular tents also have many optional accessories to make it multi-functional.
Liri Tent designed the two story tent structures in 2012, leading the tent market in China into a new age. This remarkable design and high quality make it earn lots of favor from clients around the world. The two story structures represent the height of excellence of our design and manufacture.

Double Decker Two Story Tents Dimensions
Span Width
Bay Distance
Eave Height
Ridge Height
First Floor Height
Main Profile
10m
5m
6.75m
8.5m
3.21m
300x120x5mm
15m
5m
6.75m
9.34m
3.21m
300x120x5mm
20m
5m
6.75m
10.17m
3.21m
300x120x5mm
25m
5m
6.75m
11m
3.21m
300x120x5mm
30m
5m
6.75m
11.75m
3.21m
300x120x5mm
40m
5m
6.75m
13.5m
3.21m
300x120x5mm
Builders can extend the two story structure by 5m bay such as 15m, 20m, 30m, 40m… We can offer custom made tents just for you.
sandwich panel wall, steel panel wall, glass wall, clear wall, and ABS hard wall
glass doors, ABS hard doors, sliding doors
flooring and guttering system
clear roof
stakes
weight plates
silk lining
rolling shutter
round ends
front view balcony
stairs
one bay out entrance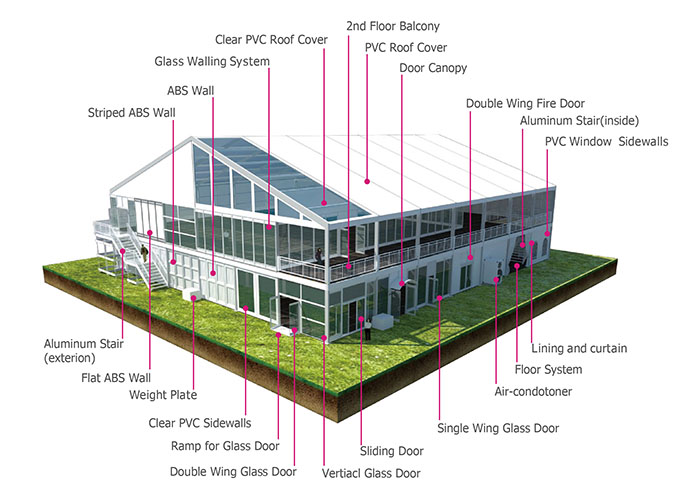 If you want to know more about these two story tents and other party tents, just SEND your detailed product inquiry below. We will get back to you as soon as possible.