The clear span of these wedding party tents ranges from 5m to 60m and the length has no limit. Based on its modular design, the size of the wedding party tent is so flexible that can depend on the size of your site. The modular structure can be increased and decreased in 5m bay distance according to the clients' requirements.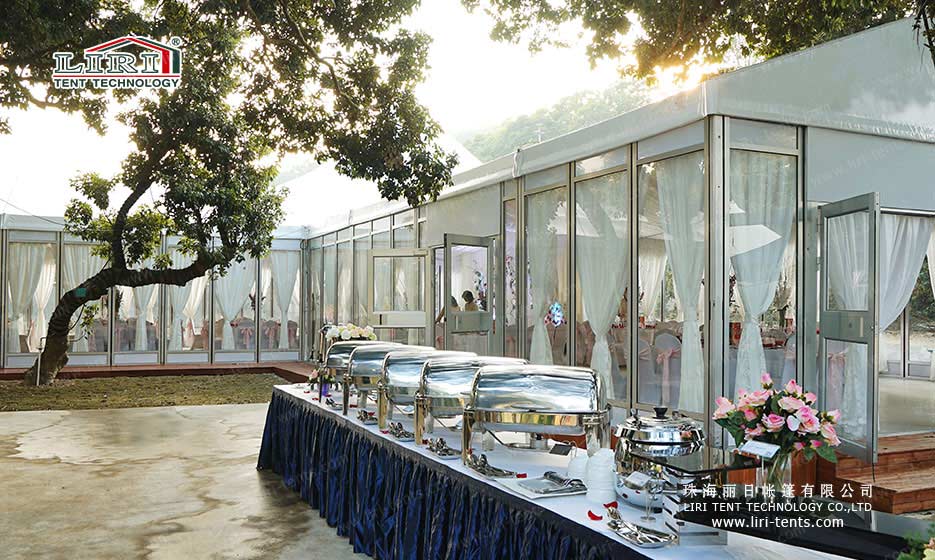 To meet clients' various needs, we have provided full accessories. Those include clear windows, glass walls, ABS walls, glass doors, roof lining, inside curtains, flooring systems, lighting systems, chairs, tables, etc. Therefore, we can provide whatever type of tent you want.
Materials of Wedding Party Tents for Sale
Fabric: Double PVC coated polyester fabric, which is 750-900g per sqm, waterproof, UV resistant, and fire retardant according to standard NFPA701, CFM, and DIN4102 B1/M2
Frame: Hard pressed extruded aluminum 6061/T6, anodized surface finishing.
Connections: Hot-DIP galvanized.
If you want to buy party tents and more, just SEND your detailed product inquiry below. We will get back to you as soon as possible.