Clear span tents becomes the fastest growing in the event rental market, because of its great versatility. Especially when there is a need for free from center poles, clear span buildings will be the best choice. Clear span construction profiles can be up to 80 meters wide and at any length. These engineered clear span structures can be used for any temporary or semi-permanent building need.

Clear Span Tents for Sale Details
Span Width

Bay Distance

Eave Height

Ridge Height

Main Profile

10m

5m

3.88m

5.53m

204x120x4mm(4-channel)

12m

5m

3.88m

5.83m

204x120x4mm(4-channel)

15m

5m

3.88m

6.3m

204x120x4mm(4-channel)

20m

5m

3.88m

7.1m

204x120x4mm(4-channel)

25m

5m

3.88m

7.88m

204x120x4mm(4-channel)

You can extend these clearspan tents by 5m bay such as 15m, 20m, 30m, 40m…So it is available from 100 people tents to 5000 people tents.
Features of Clear Span Tents Structures
Being able to set up over or around trees, statues, and large pools, etc.
No internal pole, making more spaces for a venue or site tent.
Ideal not only for weddings and parties, but also for warehouse
Ease of installation and delivery.
Ability to add any additional fittings: ceiling liners, dance flooring, chandeliers, clear walls and tops…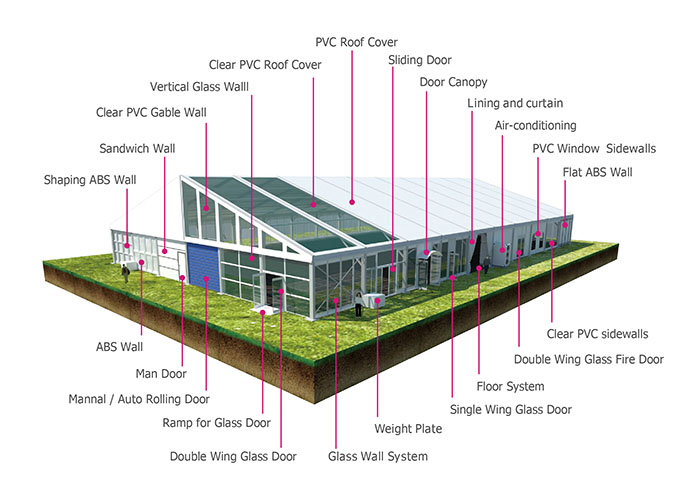 If you are interested in these tents and other more, just SEND your detailed product inquiry below. We will get back to you as soon as possible.