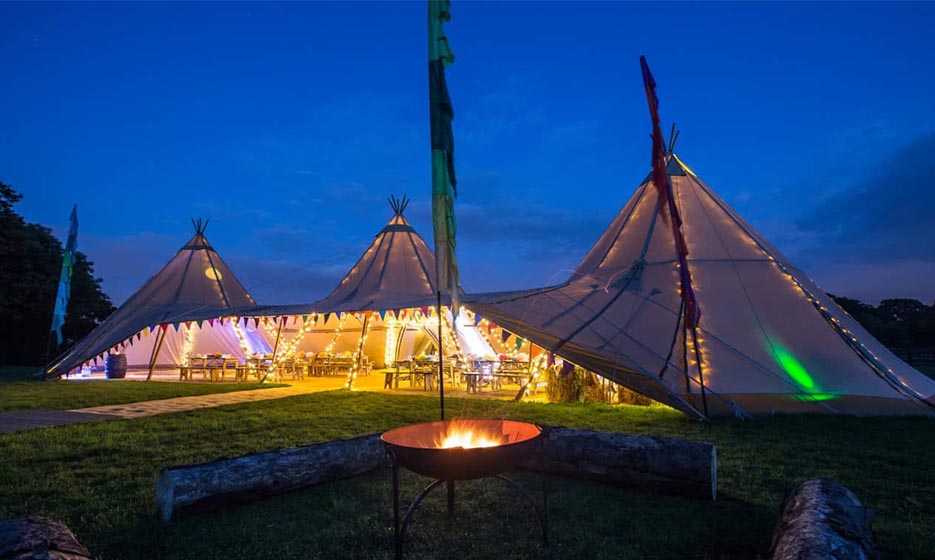 Tired of the same old restaurants in the city. If you like the feeling of outdoor dining, you must try our TEEPEE restaurant.
The world-famous traditional TEEPEE tent is made of original materials, simple to set up, which is suitable for outdoor camping. Now we have transformed it into a taller and stronger outdoor TEEPEE restaurant.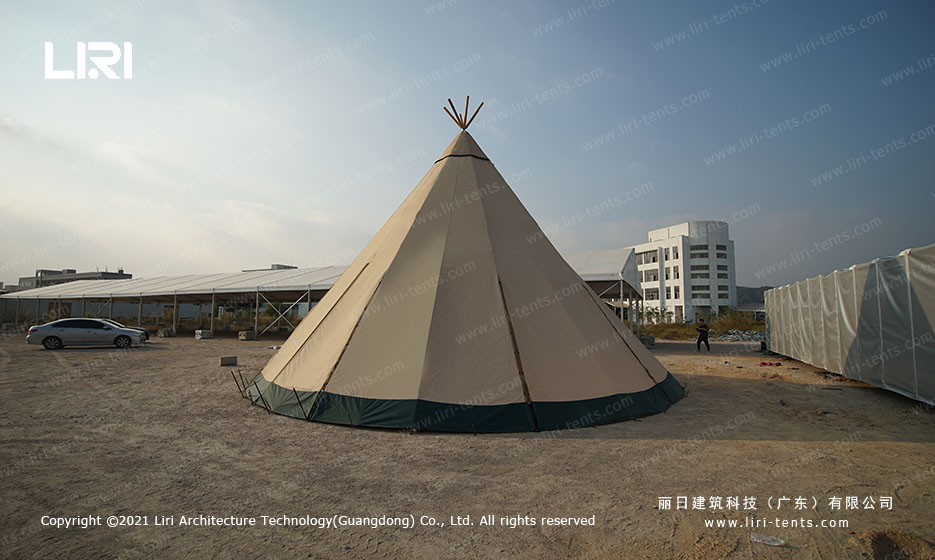 We have used high-strength aluminum alloy brackets and PVC tarpaulins with better waterproofing properties, making the TEEPEE tent much more wind and water-resistant. After the renovation TEEPEE can be transformed into a combined TEEPEE restaurant.
The TEEPEE restaurant is very spacious, with room for more than 10 tables and 20 to 100 people dining inside.
If you find the space cramped or the air is not circulating, the canopy can be lifted all the way around. The canopy of the modular TEEPEE restaurant can be lifted all the way up or the front door can be partially lifted. The TEEPEE is then shaped like a giant hat.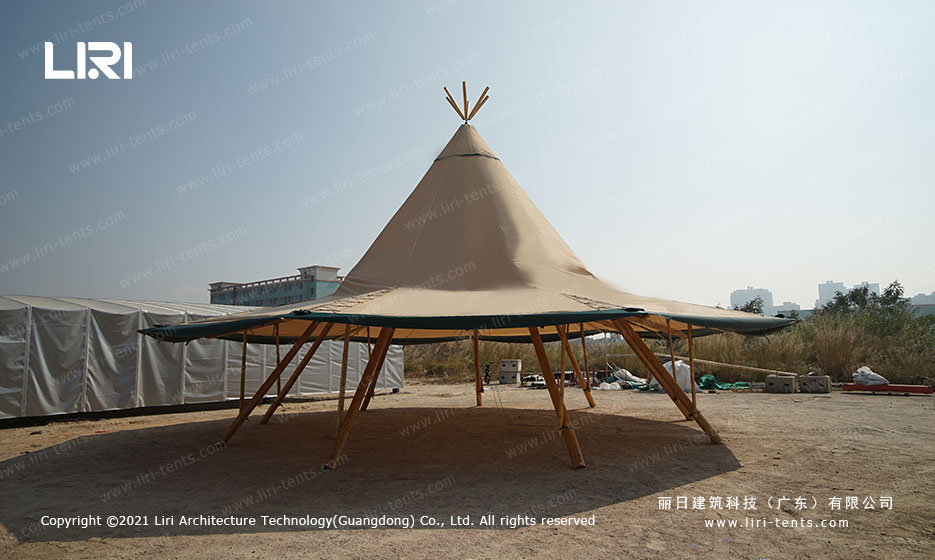 It is the idea of many operators to make TEEPEE a fixed building and operate it as a store on a daily basis. Planting flowers and plants, hanging lights, and laying carpets will make the TEEPEE like an exquisite back garden.
The renovated TEEPEE restaurant is not only more recognizable but also more functional. The TEEPEE can be used in a variety of scenarios with the full lift-up canopy. For example, party tents, outdoor barbecue tents, outdoor campsites, etc.
| Model | TP100/14 | TP72/10 | TP40/8 | TP28/7 | TP20/6 | TP33/6 |
| --- | --- | --- | --- | --- | --- | --- |
| Eave height | 2.1m | 2.1m | 2.1m | 2.1m | 2.1m | 2.1m |
| Ridge height | 9.15m | 6.8m | 5.5m | 5m | 4.3m | 4.3m |
| Top height | 9.75m | 7.4m | 6.1m | 5.5m | 4.8m | 4.8m |
| Diameter | 13.8m | 10.3m | 8.25m | 7.4m | 6.5m | 6.5m |
| Diameter when sides are raised | 16.5m | 13m | 11m | – | – | – |
| Floor area | 150m² | 83m² | 50m² | 42m² | 33m² | 33m² |
| Covered area when sides are raised | 210m² | 132m² | 95m² | – | – | – |
| Capacity (standing) | 120 people | 80 people | 45 people | 28 people | 20 people | 20 people |
| Capacity (seated) | 100 people | 72 people | 40 people | 24 people | 16 people | 12 people |
| Capacity (camping) | 70 people | 50 people | 25 people | 16 people | 12 people | 6 people |
| Main poles | Wooden pole Φ80/180x11500mm | Wooden pole Φ70/130x8300mm | Wooden pole Φ70/130x6800mm | Wooden pole Φ70/120x6100mm | Wooden pole Φ70/120x5300mm | Wooden pole Φ70/120x5300mm |
| Weight of Package | about 850kg/set | about 700kg/set | about 300kg/set | about 250kg/set | about 200kg/set | about 250kg/set |