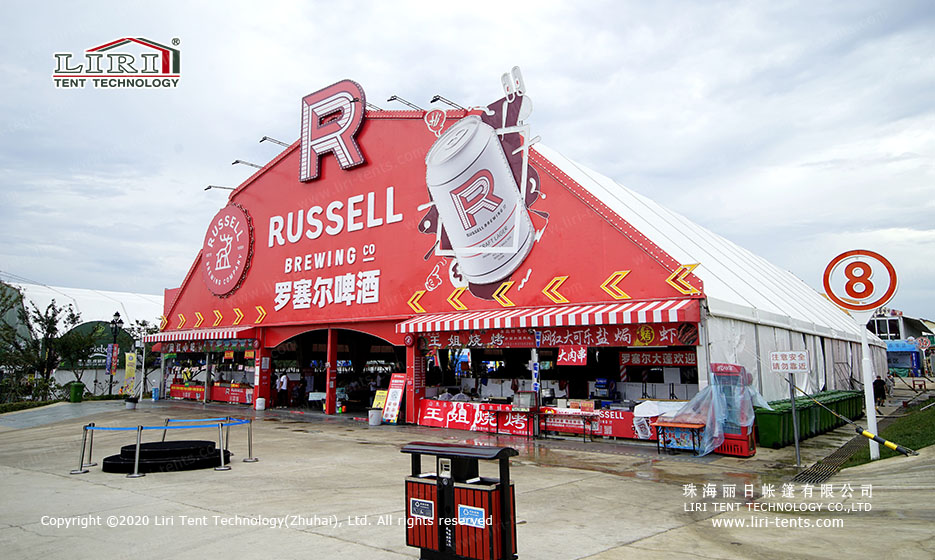 The Beer Festival is a festival where many international beer brands and a variety of delicacies gather together. With over 1,000 beer events taking place around the world every year, it is clear how popular they are.

Liri Tent has been the official tent supplier for the Qingdao Beer Festival in China. Past Oktoberfest Party Tents. We provide advertising printing with brand logos for the official Qingdao Beer Festival and give full play to the advantages of assembling festival party tents. When night falls, the colorful lighting effects and pleasant electronic music will make you have the urge to enter the tent and explore around.
The passionate Oktoberfest tent
Li Ri Tent's festival party tent is the main building for the annual Qingdao Beer Festival in China. Each festival tent has a strong festival style, with brand logos and promotional messages printed on advertising boards at the front entrance. When night falls, the colorful lighting effects and pleasant electronic music attract customers with the urge to enter and explore.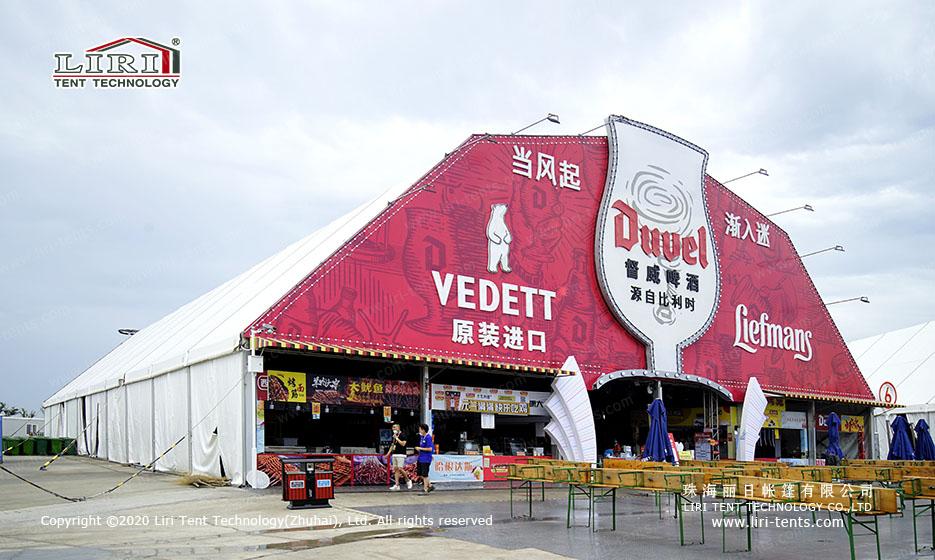 For an event as cyclical and mobile as Beer Festival, it would not be cost-effective to build a fixed structure for this purpose. The search for a suitable venue is also influenced by scheduling, location, and policy. Considering all aspects, it is undoubtedly the best solution to use large tents according to local conditions.
The Oktoberfest organizers very cleverly made use of the large billboard in front of the tent. Distinguishing different flavors and countries of beer by their colors. Even if you come to the site for the first time, you can quickly find your personal favorite beer flavor.
A Festival party tent to deal with the sudden rain, windy weather is really handy.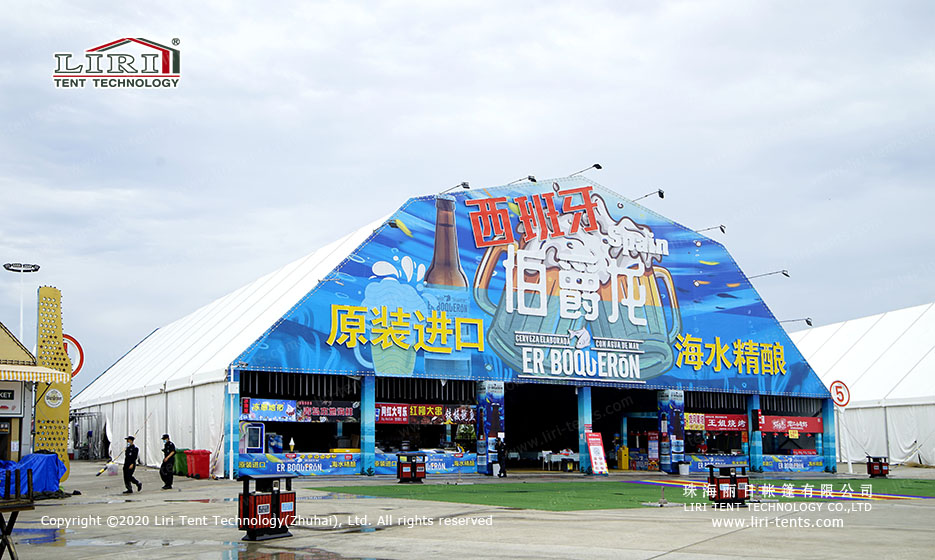 Liri Tent has long-term cooperation with Qingdao Beer Festival officials and is their long-term partner. Liri Tent is a large tent manufacturer that deals with tent rental and custom design, construction, and recycling. The sales range is distributed worldwide, such as in the United States, Canada, Turkey, India, and many other countries, and the quality and strength are first-class enterprises.
Every year after the Oktoberfest, we send our professional workers to collect the tent frames and tarps and put them in our warehouse properly. Whenever there is a large festival party elsewhere, they are rented or sold again after a complete fitting. Large party tents are assembled as temporary structures with building specifications that meet the professional certification of the European Union.

Festival Party Tents Dimensions
| Span Whidth | Eave Height | Ridge Height | Bay Distance | Main Profile |
| --- | --- | --- | --- | --- |
| 20m | 4m | 9.42m | 5m | 204x120x4mm (4 - channel) |
| 25m | 4m | 11.72m | 5m | 256x121x5mm (4 - channel) |
| 30m | 4m | 13.2m | 5m | 256x121x5mm (4 - channel) |
| 40m | 4m | 15.4m | 5m | 300x120x5mm (4 - channel) |
| 50m | 4m | 16m | 5m | 300x120x5mm (4 - channel) |
| 60m | 4m | 17m | 5m | 400x120x7mm (4 - channel) |