Summer is upon us, and the epidemic is still spreading so rapidly that many people are unable to go on trips and business activities. If you have a large open space in your backyard, perhaps building a "temporary space" will go a long way toward alleviating the loneliness and boredom of summer. Imagine the impact this "temporary space" will have on your children.
There are many "temporary space" solutions on the market. Among them, frame tents are the best and most perfect "temporary space" solution. Frame tents can be used in warehouses, weddings, banquets, exhibitions, sales halls, etc. Even backyard lawns can be equipped with frame tents.

How To Plan Your Tent?
The role and planning of the "second space" is the first question for many families. It can either complement the main house or be independent. Installing a frame tent as a shed, garage or workshop in the backyard can be a great way to relieve the stress of an overcrowded main house. In fact, there is a big, big difference between a frame tent and a camping tent. A frame tent uses iron, aluminum, or steel as a support and can be covered with fabric, canvas, glass, walls, and many other materials. You can use the "backyard tent" as a second home.
The tent factory workers will take care of all the assembly and disassembly. A complete planning package is provided according to the size and needs of the venue. For example, for parties and weddings, tables, chairs, lights, electricity, etc. are provided. For storage and garages, UV-resistant tarps, partitions, fire protection, and other equipment are provided. In short, the tent company has proven experience and solutions for you to choose from.

Frame Tents For Backyard Lawns
Our frame tents can create the ideal "temporary space" for your guests. We offer a wide range of frame tents for sale for private events and high end parties around the world. For example, a 10*20m A-top aluminum frame tent with a 4m high eave (or higher), fully covered with white PVC fabric. As a party ballroom for more than 200 guests, it provides a safe and comfortable large space. If you wish to have a dance floor, bar, catering service, etc. inside the tent, the recommended seating capacity will be reduced.
If you choose a freestanding and high-end backyard tent, you can choose shapes such as peak tops, dome tops, and polygon tops. Then install dazzling lights, and the atmosphere will suddenly be much improved. Considering the dryness of the lawn, standing water and bugs, it is best to add a level floor.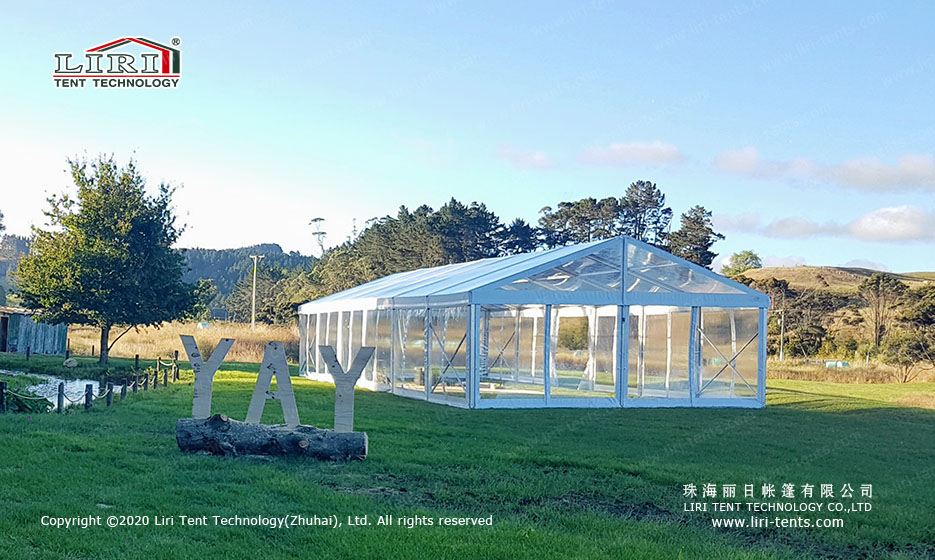 For more information, please fill out our online inquiry form. We will provide a space solution that fits your project budget.